20 September 2021

VanEck Blogs | Emerging Markets Debt Daily

Can Policy Response Limit Contagion?
With no end to China/Evergrande contagion fears, the focus shifts to this week's monetary policy meetings in the U.S. and major EMs.
China/Evergrande contagion fears continue to dominate headlines, with spillovers to China's Investment Grade bonds (including real estate – see chart below), commodities (iron ore) and developed markets (DM) (Australian Dollar) watched especially intently. China's central bank (PBoC) injected CNY100B of additional liquidity over the weekend, but there are no signs of authorities easing on regulations. A popular view is that both the government and the central bank have enough capacity to add policy support – but we suspect it might be a question of willingness (and possibly a higher "pain" threshold) this time around. Anyway, we will keep an eye on tomorrow's PBoC decision regarding 1-year and 5-year Loan Prime rates (the consensus sees no change in both).
Another important aspect of the Evergrande story is the impact on China's growth outlook (especially near-term). Real estate and construction account for about 20% of China's GDP, and the prolonged weakness in the sector can (a) reinforce China's slowing growth momentum, and (b) delay the growth rebalancing towards consumption. It remains to be seen whether authorities will tolerate the slowdown as part of the political/ideological "rebalancing", but China's status as a global growth driver can have implications for the growth differential between emerging markets (EM) and DM – that is, unless the growth momentum in DM slows as well. This week's preliminary activity gauges (Purchasing Managers Indices) in Europe and the U.S. will give us a better idea about the latter.
Against this backdrop, this week's monetary policy decisions in the U.S. and major EMs will be of utmost importance. In particular, we keep an eye on the pace of tightening in Brazil and Hungary, any hints of policy easing in Turkey and China-related financial stability considerations in Indonesia and the Philippines. In the U.S., the Federal Reserve (Fed) might tweak its tapering language after it releases a new set of "dots". We also wonder whether the Fed will mention China in its communications – as it has done in the past. As of today, it might still be early - but things are moving really fast, so stay tuned!
Chart at a Glance: Will Evergrande Woes Affect China IG Bonds?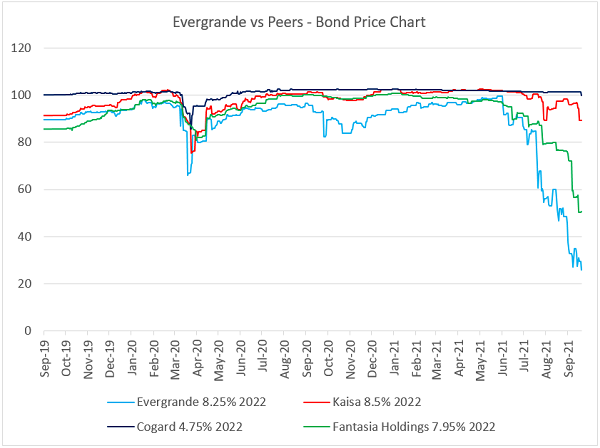 Source: Bloomberg LP
IMPORTANT DEFINITIONS & DISCLOSURES  
This material may only be used outside of the United States.
This is not an offer to buy or sell, or a recommendation of any offer to buy or sell any of the securities mentioned herein. Fund holdings will vary. For a complete list of holdings in VanEck Mutual Funds and VanEck Vectors ETFs, please visit our website at www.vaneck.com.
The information presented does not involve the rendering of personalized investment, financial, legal, or tax advice. Certain statements contained herein may constitute projections, forecasts and other forward looking statements, which do not reflect actual results. Information provided by third-party sources are believed to be reliable and have not been independently verified for accuracy or completeness and cannot be guaranteed. Any opinions, projections, forecasts, and forward-looking statements presented herein are valid as of the date of this communication and are subject to change without notice. The information herein represents the opinion of the author(s), but not necessarily those of VanEck.
The views contained herein are not to be taken as advice or a recommendation to buy or sell any investment in any jurisdiction, nor is it a commitment from Van Eck Associates Corporation or its subsidiaries to participate in any transactions in any companies mentioned herein. This content is published in the United States. Investors are subject to securities and tax regulations within their applicable jurisdictions that are not addressed herein.
All investing is subject to risk, including the possible loss of the money you invest. As with any investment strategy, there is no guarantee that investment objectives will be met and investors may lose money. Diversification does not ensure a profit or protect against a loss in a declining market. Past performance is no guarantee of future results.

Natalia Gurushina
Chief Economist, Emerging Markets Fixed Income Strategy