15 July 2021

VanEck Blogs | Emerging Markets Debt Daily

China Growth – Glass Half Full?
China's Q2 growth slowdown was not as sharp as feared. The data flow, financial stability considerations and the level of funding costs will determine if more policy easing is required going forward.
China's Q2 GDP and June's domestic activity indicators signal that growth is indeed moderating, but the slowdown is not as sharp as feared. Given the COVID-related distortions, a sequential measure of growth (quarter-on-quarter) might be more appropriate to look at – and it beat expectations at 1.3%. There were some encouraging developments on the growth rebalancing front as well (in the form of stronger than expected June's retail sales), albeit the consumption recovery is still lagging and growth remains driven by industry and external demand (exports). Anyway, the market looked quite content after the release – China's major equity indices were up, and the renminbi traded stronger against the U.S. dollar.
So, was China's recent "blanket" cut in the reserve requirement ratios (RRR) for banks justified, and, importantly, does China need to do more easing? On the one hand, it does not look like the recovery is in danger (it is "steadying" but not "faltering"). Further, the progress in vaccinations should give an extra boost to services closer to year-end. However, the high funding costs for privately owned and smaller companies is a major (structural) stumbling block, and authorities believe the RRR cut should help to bring them down. The moral hazard (corporate defaults)/financial stability considerations is another important layer. If China continues to fade its fiscal stimulus, we might see more support on the liquidity/monetary side. We will keep an eye on the upcoming Politburo meeting for more policy signals.
The consensus forecast for China's 2021 growth had been quite stable. As regards the rest of the world, analysts are much more decisive when it comes to changing their growth projections. Among developed markets (DM), the U.K. had the largest upgrade in the past three months, while Japan's 2021 GDP forecast was cut alongside regional emerging markets (EM) (see chart below). EMEA's 2021 GDP is still being lifted up (cautiously), but LATAM is on a roll, with the region's 2021 growth projection 1.21% higher than just three months ago. Stay tuned!
Charts at a Glance: EM Growth Revisions Go Both Ways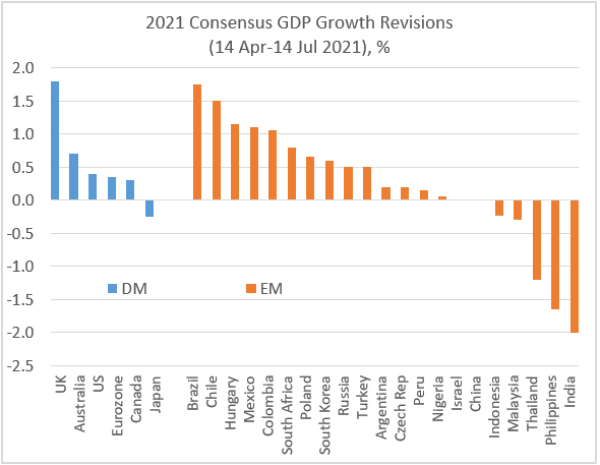 Source: VanEck Research; Bloomberg LP
IMPORTANT DEFINITIONS & DISCLOSURES  
This material may only be used outside of the United States.
This is not an offer to buy or sell, or a recommendation of any offer to buy or sell any of the securities mentioned herein. Fund holdings will vary. For a complete list of holdings in VanEck Mutual Funds and VanEck Vectors ETFs, please visit our website at www.vaneck.com.
The information presented does not involve the rendering of personalized investment, financial, legal, or tax advice. Certain statements contained herein may constitute projections, forecasts and other forward looking statements, which do not reflect actual results. Information provided by third-party sources are believed to be reliable and have not been independently verified for accuracy or completeness and cannot be guaranteed. Any opinions, projections, forecasts, and forward-looking statements presented herein are valid as of the date of this communication and are subject to change without notice. The information herein represents the opinion of the author(s), but not necessarily those of VanEck.
The views contained herein are not to be taken as advice or a recommendation to buy or sell any investment in any jurisdiction, nor is it a commitment from Van Eck Associates Corporation or its subsidiaries to participate in any transactions in any companies mentioned herein. This content is published in the United States. Investors are subject to securities and tax regulations within their applicable jurisdictions that are not addressed herein.
All investing is subject to risk, including the possible loss of the money you invest. As with any investment strategy, there is no guarantee that investment objectives will be met and investors may lose money. Diversification does not ensure a profit or protect against a loss in a declining market. Past performance is no guarantee of future results.

Natalia Gurushina
Chief Economist, Emerging Markets Fixed Income Strategy