19 July 2021

VanEck Blogs | Emerging Markets Debt Daily

EM – Local Policies vs. Global Concerns
EM central banks will be making rate-setting decisions amongst diverging inflation/growth outlooks and another global risk-off episode.
This week will be packed with important events both in emerging markets (EM) and developed markets (DM), and it started with a risk-off "bang" - most EM currencies and equity indices traded in the red this morning, while the 10-year U.S. Treasury yield dropped below the 1.20% handle. Even though the current recovery in the U.S. is shaping up to be the fastest since World War II, the growth scare is back due to the virus mutations concerns - hence the focus on the additional fiscal stimulus and the U.S. Federal Reserve's taper talk. The virus resurgence theme affects the EM narrative as well - albeit the impact on the near-term growth outlook is very uneven, with forecast downgrades concentrated in Asia, where the vaccination rates are the lowest.
Growth is not the only area where we see a lot of differentiation among EMs. The EM inflation "heatmaps" – both headline and core – are far from uniform. The same applies to a key monetary policy consideration – how actual inflation looks relative to the inflation target (see chart below). Inflation in many EMEA and LATAM countries is either above the target or close to the top of the target band. By contrast, inflation in EM Asia is still mostly within/below the target band.
This divergence underpins the expectations for the upcoming rate-setting decisions in EM. The consensus now sees an 88bps rate hike in Russia on July 23, but no changes (yet) in Indonesia or South Africa. South Africa might be considered a special case, as the central bank's meeting takes place shortly after the deadly riots. But nevertheless, most forecast revisions focus on growth (lower) and budget deficit (wider) rather than inflation. Another interesting case is China, where the 1-year and 5-year Loan Prime Rates will be announced later today. The consensus sees no change in both, but there is less certainty about the overall policy stance following the surprising "blanket" cut in the reserve requirements for banks.
Charts at a Glance: EM Inflation vs. Targets – Not A Uniform Picture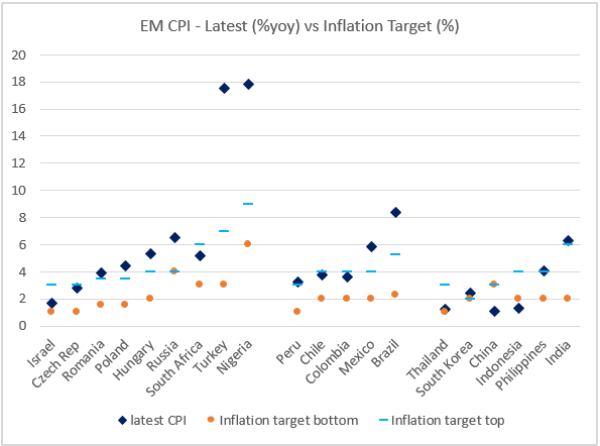 Source: Bloomberg LP
IMPORTANT DEFINITIONS & DISCLOSURES  
This material may only be used outside of the United States.
This is not an offer to buy or sell, or a recommendation of any offer to buy or sell any of the securities mentioned herein. Fund holdings will vary. For a complete list of holdings in VanEck Mutual Funds and VanEck Vectors ETFs, please visit our website at www.vaneck.com.
The information presented does not involve the rendering of personalized investment, financial, legal, or tax advice. Certain statements contained herein may constitute projections, forecasts and other forward looking statements, which do not reflect actual results. Information provided by third-party sources are believed to be reliable and have not been independently verified for accuracy or completeness and cannot be guaranteed. Any opinions, projections, forecasts, and forward-looking statements presented herein are valid as of the date of this communication and are subject to change without notice. The information herein represents the opinion of the author(s), but not necessarily those of VanEck.
The views contained herein are not to be taken as advice or a recommendation to buy or sell any investment in any jurisdiction, nor is it a commitment from Van Eck Associates Corporation or its subsidiaries to participate in any transactions in any companies mentioned herein. This content is published in the United States. Investors are subject to securities and tax regulations within their applicable jurisdictions that are not addressed herein.
All investing is subject to risk, including the possible loss of the money you invest. As with any investment strategy, there is no guarantee that investment objectives will be met and investors may lose money. Diversification does not ensure a profit or protect against a loss in a declining market. Past performance is no guarantee of future results.

Natalia Gurushina
Chief Economist, Emerging Markets Fixed Income Strategy