16 July 2021

VanEck Blogs | Emerging Markets Debt Daily

EM Politics – Near-Term Pain, Longer-Term Gain?
Local bonds are bouncing in the recent political hotspots (South Africa, LATAM), but there is a question whether the risk premium will continue to mean-revert or it will have to move higher in the medium-term as the baseline.
This is the question we've been asking ourselves this week as we watched the deadly riots unfolding in South Africa. The situation on the ground seems to be de-escalating, and both the currency and rates retraced some of the week's losses – albeit South Africa had the worst weekly total return in the J.P. Morgan's local bond index (GBI-EM, see chart below). What we are struggling to understand is whether the country's risk premium will mean-revert to the pre-riot levels, or South Africa would require a higher medium-term risk premium as the base line.
The analysis we've seen so far suggest that the impact on 2021 GDP growth is likely to be limited, and that the budget can absorb the shock without a material longer-term impact. South Africa's central bank – widely considered to be among the most credible in emerging markets (EM) (if not in the world) – will provide its updated risk assessment later this month, but is expected not to panic and stay on hold. Suggestions that the crisis can force President Cyril Ramaphosa to seek alliances outside the ANC and that it can strengthen local institutions and NGOs are tantalizing. There is an opportunity, but there is also a risk. South Africa has one of the highest unemployment rates in EM (over 30%), one of the highest inequality ratios in the world and its per capita GDP is way below the rating peers.
South Africa is not the only country/region that saw groundbreaking political developments in the past few months. LATAM is very much on our radar. Local bonds had been bouncing lately (see chart below), as the recent negatives (Peru's elections, Colombia's downgrade, Chile's referendum) are getting increasingly priced in, and there are signs of policy pragmatism on the ground (Colombia still pushing ahead with tax reform, Peru's president-elect making reasonable personnel calls, etc.). The regional growth outlook has been upgraded the most in EM, as vaccinations are gaining pace, and central banks are responding to higher inflation in an orthodox manner (=rate hikes). Stay tuned!
Charts at a Glance: Local Rates - Political Risks Are Hitting Some EMs, Priced in Others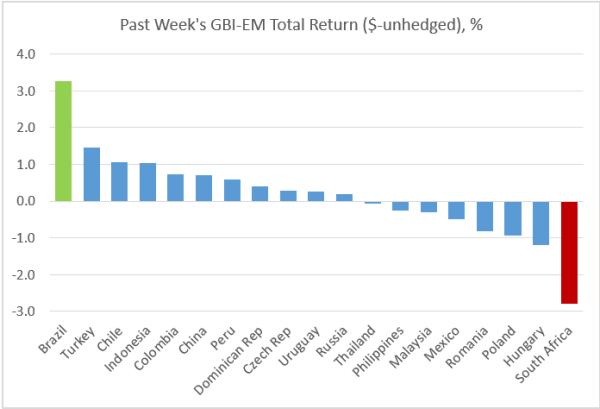 Source: VanEck Research; Bloomberg LP
IMPORTANT DEFINITIONS & DISCLOSURES  
This material may only be used outside of the United States.
This is not an offer to buy or sell, or a recommendation of any offer to buy or sell any of the securities mentioned herein. Fund holdings will vary. For a complete list of holdings in VanEck Mutual Funds and VanEck Vectors ETFs, please visit our website at www.vaneck.com.
The information presented does not involve the rendering of personalized investment, financial, legal, or tax advice. Certain statements contained herein may constitute projections, forecasts and other forward looking statements, which do not reflect actual results. Information provided by third-party sources are believed to be reliable and have not been independently verified for accuracy or completeness and cannot be guaranteed. Any opinions, projections, forecasts, and forward-looking statements presented herein are valid as of the date of this communication and are subject to change without notice. The information herein represents the opinion of the author(s), but not necessarily those of VanEck.
The views contained herein are not to be taken as advice or a recommendation to buy or sell any investment in any jurisdiction, nor is it a commitment from Van Eck Associates Corporation or its subsidiaries to participate in any transactions in any companies mentioned herein. This content is published in the United States. Investors are subject to securities and tax regulations within their applicable jurisdictions that are not addressed herein.
All investing is subject to risk, including the possible loss of the money you invest. As with any investment strategy, there is no guarantee that investment objectives will be met and investors may lose money. Diversification does not ensure a profit or protect against a loss in a declining market. Past performance is no guarantee of future results.

Natalia Gurushina
Chief Economist, Emerging Markets Fixed Income Strategy