22 July 2021

VanEck Blogs | Emerging Markets Debt Daily

Hawkish Surprises Keep Coming
Mexico's inflation keeps surprising to the upside, supporting the market expectation of more rate hikes in the next 3 months. Other EMs are still expected to normalize their policies, but not yet due to headwinds from low vaccination rates.
This means that some emerging markets (EM) central banks will keep hiking. Some will do it unexpectedly – similar to Ukraine's 50bps rate increase to 8% earlier today. Some will be telegraphing it in advance – like Russia, Brazil, and now Mexico. You might recall that the Mexican central bank tightened by 25bps in June, following a string of upside inflation surprises. Well, Mexico's core and headline bi-weekly inflation once again beat the consensus – and staying above the target (2-4%, see chart below) – sending a signal that more tightening will be required in the coming months. How soon? The consensus is still divided whether the central bank will act in August (on 18.6bps is currently priced in) or in the fall (the market expectation for the next 3 months is 34.6bps). Mexico's local rates ended up higher in the anticipation of more policy adjustment.
South Africa's headline inflation behaves much better than Mexico's prices these days, but core inflation is grinding higher (and a tad faster than expected), which is why the market believes the hiking cycle will start in 3-6 months. Reports that Pfizer and BioNTech just signed an agreement to manufacture the mRNA vaccine in Cape Town suggest that the growth outlook should improve over the same time horizon. But today, South Africa's central bank (SARB) stayed on hold, providing additional support for the economy that was just hit by deadly riots (in addition to the third wave of the virus).
The pro-growth stance was on full display in Indonesia, where the central bank also stayed on hold due to concerns about the low vaccination rates and their impact on the near-term GDP trajectory. So, what we are seeing in EM these days is that different outcomes for growth/inflation lead to different outcomes for central bank policies. What is encouraging is that hawkish surprises are dealt with in a "grown-up" manner (rate hikes), while countries that require more policy support are not pushed to hike at any cost (as past orthodox policies weakened the link between currencies and inflation).
Charts at a Glance: Mexico Inflation – No Respite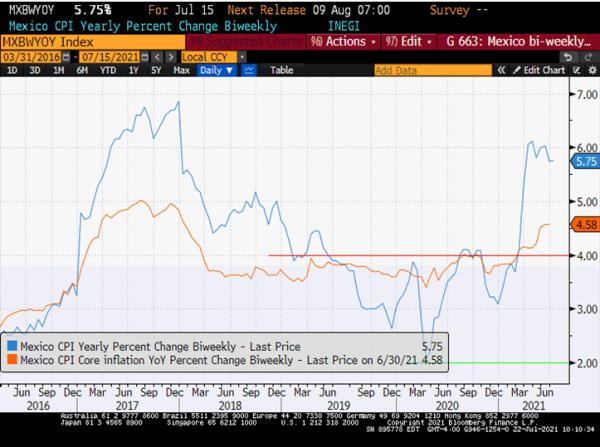 Source: Bloomberg LP
IMPORTANT DEFINITIONS & DISCLOSURES  
This material may only be used outside of the United States.
This is not an offer to buy or sell, or a recommendation of any offer to buy or sell any of the securities mentioned herein. Fund holdings will vary. For a complete list of holdings in VanEck Mutual Funds and VanEck Vectors ETFs, please visit our website at www.vaneck.com.
The information presented does not involve the rendering of personalized investment, financial, legal, or tax advice. Certain statements contained herein may constitute projections, forecasts and other forward looking statements, which do not reflect actual results. Information provided by third-party sources are believed to be reliable and have not been independently verified for accuracy or completeness and cannot be guaranteed. Any opinions, projections, forecasts, and forward-looking statements presented herein are valid as of the date of this communication and are subject to change without notice. The information herein represents the opinion of the author(s), but not necessarily those of VanEck.
The views contained herein are not to be taken as advice or a recommendation to buy or sell any investment in any jurisdiction, nor is it a commitment from Van Eck Associates Corporation or its subsidiaries to participate in any transactions in any companies mentioned herein. This content is published in the United States. Investors are subject to securities and tax regulations within their applicable jurisdictions that are not addressed herein.
All investing is subject to risk, including the possible loss of the money you invest. As with any investment strategy, there is no guarantee that investment objectives will be met and investors may lose money. Diversification does not ensure a profit or protect against a loss in a declining market. Past performance is no guarantee of future results.

Natalia Gurushina
Chief Economist, Emerging Markets Fixed Income Strategy