21 July 2021

VanEck Blogs | Emerging Markets Debt Daily

Peak Growth or Peak Concerns?
China's financial stability concerns are back in headlines, but the near-term growth outlook remains unfazed.
"Peak growth" and "peak optimism" storylines appear to be "the flavor of the month", so any development that can confirm or challenge this view is closely watched – especially when it affects two major global growth drivers, the U.S. and China. The next week's meeting of the U.S. Federal Reserve is a must-watch as regards monetary policy guidance (the Fed Fund Futures place the first rate hike 20-22 months from now). On the fiscal front, there is a great deal of uncertainty ahead of a Senate vote on the bipartisan infrastructure bill.
China's growth outlook looks solid – there were no changes in the 2021 consensus forecast as of this morning – but the latest twist in the Evergrande saga (several Hong Kong banks halting some Evergrande mortgages) gave rise to another round of concerns about contagion and financial stability. The market fallout from the company's seemingly never-ending liquidity crisis is limited for now, with China's major equity indices and the currency being up in today's trade. Government bond yields were mostly tighter, as should be expected due to their "safer haven" status.
China's financial stability concerns are not new – a big spike in corporate/SOE1defaults (see chart below) rattled the market earlier this year. There were fewer defaults in the past couple of months (according to Bloomberg LP), but many analysts worry the drop might be temporary because (a) there were no material changes in the government's approach to the public sector deleveraging, and (b) property developers have big presence on the offshore bond market. This is the reason why the Evergrande story demands full attention, so stay tuned.
Charts at a Glance: China Corporate Defaults – Which Way to Go?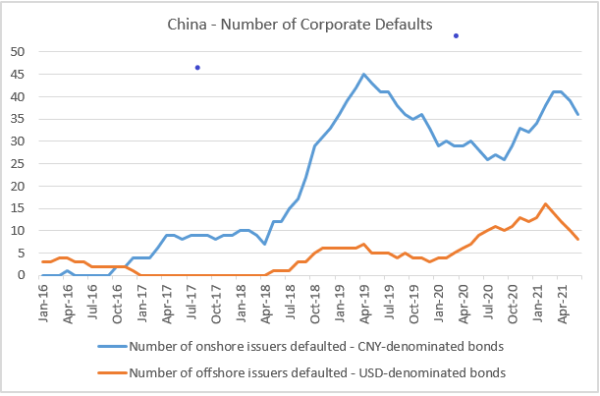 Source: Bloomberg LP
1State-owned enterprise (SOE) – A legal entity that is created by a government in order to partake in commercial activities on the government's behalf.
IMPORTANT DEFINITIONS & DISCLOSURES  
This material may only be used outside of the United States.
This is not an offer to buy or sell, or a recommendation of any offer to buy or sell any of the securities mentioned herein. Fund holdings will vary. For a complete list of holdings in VanEck Mutual Funds and VanEck Vectors ETFs, please visit our website at www.vaneck.com.
The information presented does not involve the rendering of personalized investment, financial, legal, or tax advice. Certain statements contained herein may constitute projections, forecasts and other forward looking statements, which do not reflect actual results. Information provided by third-party sources are believed to be reliable and have not been independently verified for accuracy or completeness and cannot be guaranteed. Any opinions, projections, forecasts, and forward-looking statements presented herein are valid as of the date of this communication and are subject to change without notice. The information herein represents the opinion of the author(s), but not necessarily those of VanEck.
The views contained herein are not to be taken as advice or a recommendation to buy or sell any investment in any jurisdiction, nor is it a commitment from Van Eck Associates Corporation or its subsidiaries to participate in any transactions in any companies mentioned herein. This content is published in the United States. Investors are subject to securities and tax regulations within their applicable jurisdictions that are not addressed herein.
All investing is subject to risk, including the possible loss of the money you invest. As with any investment strategy, there is no guarantee that investment objectives will be met and investors may lose money. Diversification does not ensure a profit or protect against a loss in a declining market. Past performance is no guarantee of future results.

Natalia Gurushina
Chief Economist, Emerging Markets Fixed Income Strategy