20 July 2021

VanEck Blogs | Emerging Markets Debt Daily

Policy Response and Growth/Rates Dichotomy
Lower global rates contrast with optimistic growth forecasts. EMs are expected to continue hiking, which should help to bring the average EM real policy rate back to positive territory in early 2022.
The decline in the U.S. Treasury yields looks relentless – the 10-year yield was down to the 1.13-1.14% handle this morning. And it contrasts sharply with the consensus outlook for the U.S. GDP growth – the 2021 forecast is still unchanged at 6.6% (despite concerns about the virus mutations), and the 2022 forecast was recently raised for to 4.2%. The outlooks for other major global growth drivers (China and the Eurozone) also look fine. The dichotomy between the rates' dynamics and the growth outlook explains heightened interest in the upcoming policy communications by the European Central Bank (ECB, on July 22) and the U.S. Federal Reserve (July 28).
Meanwhile in emerging markets (EM), China's decision to keep both 1-year and 5-year Loan Prime Rates on hold was widely interpreted as a sign that the growth downside is limited, so "sharper" policy turns can be avoided for now. The next big test will come at the end of the month, when we get China's activity gauges (PMIs) for July. As a reminder, China's real policy rate is among the highest in the world (see chart below), so there is room for further adjustment (if necessary).
The chart below also shows that the average real policy rate in EM ex-China is still very much negative, despite the recent hikes. This is because EM inflation has been trending up as well. And this means that the "policy cushion" for some assets – such as currencies – is still thin. The consensus sees more rate hikes in EM going forward, but the expectation is that the fading low base effect in prices will be disinflationary (other things equal). Under this scenario, the average real policy rate in EM ex-China should be back in positive territory by Q2-2022.
Charts at a Glance: Policy Response and Growth/Rates Dichotomy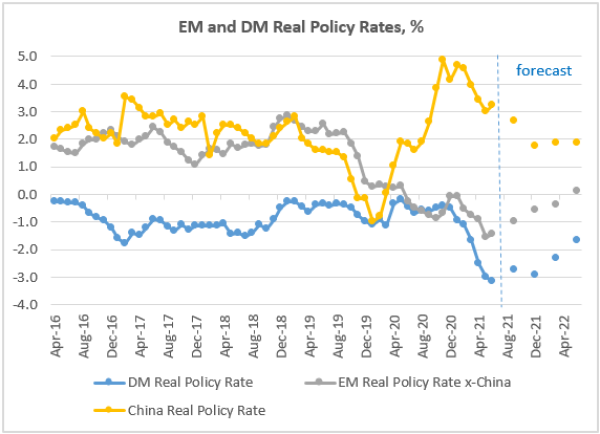 Source: VanEck Research; Bloomberg LP
IMPORTANT DEFINITIONS & DISCLOSURES  
This material may only be used outside of the United States.
This is not an offer to buy or sell, or a recommendation of any offer to buy or sell any of the securities mentioned herein. Fund holdings will vary. For a complete list of holdings in VanEck Mutual Funds and VanEck Vectors ETFs, please visit our website at www.vaneck.com.
The information presented does not involve the rendering of personalized investment, financial, legal, or tax advice. Certain statements contained herein may constitute projections, forecasts and other forward looking statements, which do not reflect actual results. Information provided by third-party sources are believed to be reliable and have not been independently verified for accuracy or completeness and cannot be guaranteed. Any opinions, projections, forecasts, and forward-looking statements presented herein are valid as of the date of this communication and are subject to change without notice. The information herein represents the opinion of the author(s), but not necessarily those of VanEck.
The views contained herein are not to be taken as advice or a recommendation to buy or sell any investment in any jurisdiction, nor is it a commitment from Van Eck Associates Corporation or its subsidiaries to participate in any transactions in any companies mentioned herein. This content is published in the United States. Investors are subject to securities and tax regulations within their applicable jurisdictions that are not addressed herein.
All investing is subject to risk, including the possible loss of the money you invest. As with any investment strategy, there is no guarantee that investment objectives will be met and investors may lose money. Diversification does not ensure a profit or protect against a loss in a declining market. Past performance is no guarantee of future results.

Natalia Gurushina
Chief Economist, Emerging Markets Fixed Income Strategy