17 May 2022

VanEck Blogs | Emerging Markets Debt Daily

Rising Rates, Rising Costs?
Rising food prices might lead to longer "marathon" hiking cycles in EM. But what are the likely costs?
Global Food Prices And Emerging Markets
India's decision to ban all wheat exports with immediate effect over the weekend drew attention to several issues. First, the ban takes place against the backdrop of global food prices hitting multi-year highs (see chart below) and inflation in parts of emerging markets (EM) moving into double-digit territory. Further, there is evidence that these kinds of global shocks are already feeding into core prices (including services), which requires continuing policy responses. A big question here is if this is indeed a policy "marathon", would it be more appropriate to proceed at a slower pace of rate hikes? Some central banks in EMEA and LATAM seem to think so. On the other hand, the latest policy moves in EM Asia (India and Malaysia) show more urgency and signal more rate hikes' frontloading than the market was expecting earlier this year. India's central bank minutes will be released tomorrow, and we hope they will shed more light on this subject.
Rate Hikes And Fiscal Implications
Second, "marathon" tightening cycles inevitably lead to concerns about the fiscal impact of higher interest rates, including "technical" issues like larger debt issuance. This might not be a huge problem for countries with deep domestic financial markets (like South Africa, for example), but it poses risks for less developed markets - especially as non-resident money continues to leave. The sell side research shows that portfolio outflows from EM since the beginning of March are comparable to those during the global financial crisis of 2008.
Food Prices And Social Risks
Finally, rising food prices reinforce concerns about social and political implications in lower-income countries (Arab Spring 2.0). The IMF is talking to several governments right now, but the fund's support is conditional upon meeting certain targets, including structural. Some countries - like Egypt - are making more progress than the others. The Egyptian central bank is also expected to deliver another rate hike on May 19 to cap rising prices. However, the situation in Sri Lanka is getting more and more challenging. Will the appointment of new Prime Minister be a game-changer? Stay tuned!
Chart at a Glance: Food Prices - No Peak in Sight?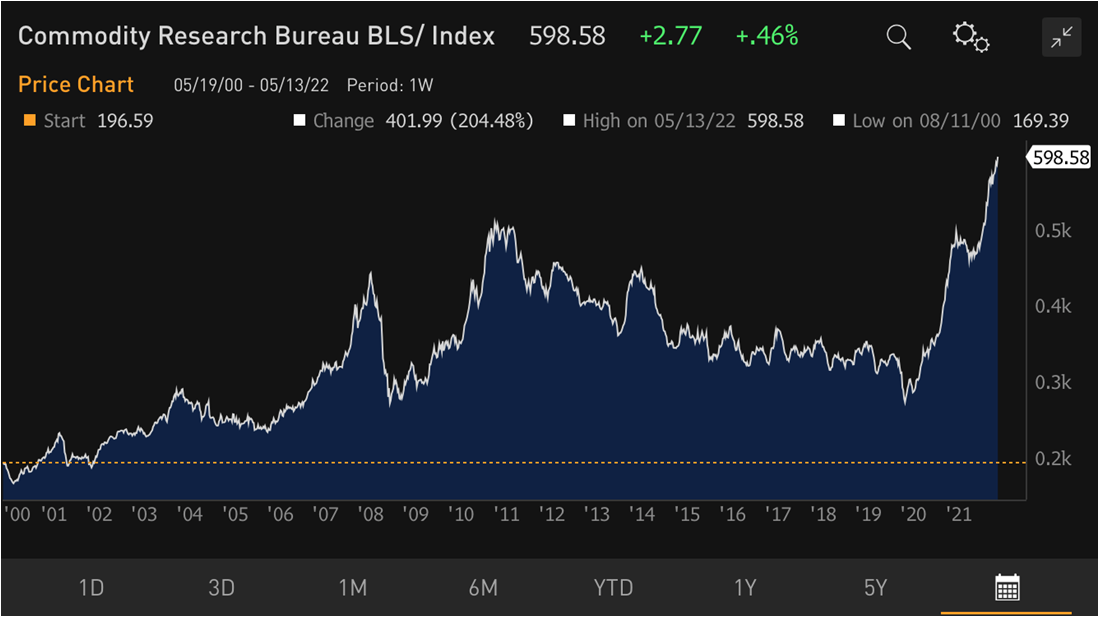 Source: Bloomberg LP
IMPORTANT DEFINITIONS & DISCLOSURES  
This material may only be used outside of the United States.
This is not an offer to buy or sell, or a recommendation of any offer to buy or sell any of the securities mentioned herein. Fund holdings will vary. For a complete list of holdings in VanEck Mutual Funds and VanEck Vectors ETFs, please visit our website at www.vaneck.com.
The information presented does not involve the rendering of personalized investment, financial, legal, or tax advice. Certain statements contained herein may constitute projections, forecasts and other forward looking statements, which do not reflect actual results. Information provided by third-party sources are believed to be reliable and have not been independently verified for accuracy or completeness and cannot be guaranteed. Any opinions, projections, forecasts, and forward-looking statements presented herein are valid as of the date of this communication and are subject to change without notice. The information herein represents the opinion of the author(s), but not necessarily those of VanEck.
The views contained herein are not to be taken as advice or a recommendation to buy or sell any investment in any jurisdiction, nor is it a commitment from Van Eck Associates Corporation or its subsidiaries to participate in any transactions in any companies mentioned herein. This content is published in the United States. Investors are subject to securities and tax regulations within their applicable jurisdictions that are not addressed herein.
All investing is subject to risk, including the possible loss of the money you invest. As with any investment strategy, there is no guarantee that investment objectives will be met and investors may lose money. Diversification does not ensure a profit or protect against a loss in a declining market. Past performance is no guarantee of future results.

Natalia Gurushina
Chief Economist, Emerging Markets Fixed Income