Testing the Status Quo in EM
24 April 2023
Read Time 2 MIN
The consensus is optimistic on the pace of disinflation. But is it enough to start rate cuts in EM?
Consensus View on Growth, Inflation
The softer landing story – back in vogue after the IMF spring meetings – continues to drive the near-term market expectations for policy rates in developed markets (DM), with swap curves implying the U.S. "farewell" rate hike in May, and about 85bps of additional tightening in the Eurozone. The U.S. Federal Reserve (Fed) expectations firmed up quite a bit after the mini-banking crisis in March, but the consensus continues to see room for rate cuts on the 6-12 months horizon, betting that inflation pressures will continue to subside. The emerging markets (EM) debt team found this to be the common view at the recent spring meetings and we think that the consensus might be too optimistic, albeit higher real interest rates in EMs place them in a fundamentally safer position to start policy easing. 
Rate Pause or Pivot?
Last week, Uruguay delivered its inaugural rate cut and the Costa Rican central bank cut the policy rate for the second time in a row. The market was not super-excited about the moves, but the reaction was muted compared to what happened to the Hungarian forint after suggestions that the central bank might start cutting some interest rates as soon as tomorrow. For now, most EM central banks are following the IMF's advice to remain cautious and not communicate rate cuts prematurely. We expect Colombia to follow suit on Friday with a hawkish hold. Colombia's economy is definitely slowing down, the currency's appreciation should help to cap price pressures going forward, and the fiscal gap is expected to narrow this year, but inflation – especially core – is yet to peak.
Conditions for EM Rate Cuts
Mexico has even more reasons to pause in May, following softer than expected bi-weekly inflation prints this morning (see chart below). The local swap curve implies that the policy rate has peaked, and that there is room for rate cuts in Q4. Brazil's example, however, shows that successful disinflation might be enough to pause, but not enough to initiate, rate cuts in EM. Brazil's real policy rate is the highest in EM, and mid-month inflation is expected to fall below 5% year-on-year this Friday. Still, concerns about sticky inflation expectations and the government's fiscal plans keep the central bank on defensive, and the market sees the first rate cut only in the fall.
Chart at a Glance: Mexico – Policy Rate Pause at Last?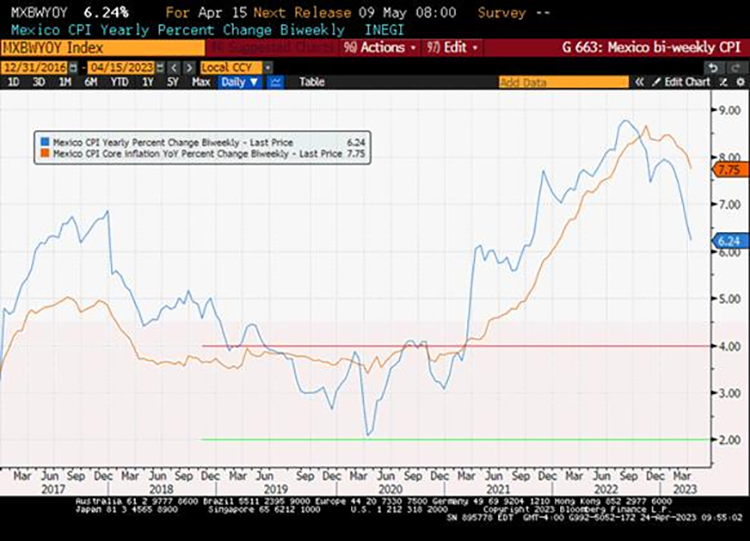 Source: Bloomberg LP
IMPORTANT DEFINITIONS & DISCLOSURES  
This material may only be used outside of the United States.
This is not an offer to buy or sell, or a recommendation of any offer to buy or sell any of the securities mentioned herein. Fund holdings will vary. For a complete list of holdings in VanEck Mutual Funds and VanEck ETFs, please visit our website at www.vaneck.com.
The information presented does not involve the rendering of personalized investment, financial, legal, or tax advice. Certain statements contained herein may constitute projections, forecasts and other forward looking statements, which do not reflect actual results. Information provided by third-party sources are believed to be reliable and have not been independently verified for accuracy or completeness and cannot be guaranteed. Any opinions, projections, forecasts, and forward-looking statements presented herein are valid as of the date of this communication and are subject to change without notice. The information herein represents the opinion of the author(s), but not necessarily those of VanEck.
The views contained herein are not to be taken as advice or a recommendation to buy or sell any investment in any jurisdiction, nor is it a commitment from Van Eck Associates Corporation or its subsidiaries to participate in any transactions in any companies mentioned herein. This content is published in the United States. Investors are subject to securities and tax regulations within their applicable jurisdictions that are not addressed herein.
All investing is subject to risk, including the possible loss of the money you invest. As with any investment strategy, there is no guarantee that investment objectives will be met and investors may lose money. Diversification does not ensure a profit or protect against a loss in a declining market. Past performance is no guarantee of future results.