25 May 2022

VanEck Blogs | Emerging Markets Debt Daily

About Defaults - Russia and More?
U.S. Treasury closes the debt payment loophole for Russia. EM central banks keep an eye on the policy rate differential with the U.S. Fed.
Russia Sovereign Default
The U.S. Treasury closed the loophole (a special Office of Foreign Assets Control (OFAC) waiver) that allowed U.S. banks and individuals to receive bond payments from the Russian government. With Russia's technical default looming, some commentators argued that this creates an international precedent that can complicate the lives of sovereign borrowers down the road. An aspect that might be more relevant in the near-term is the impact on Russia's corporate debt, which is several orders of magnitude larger than sovereign debt. Yes, it is not huge as percentage of GDP, and it is very concentrated in several sectors, but broken financing and supply chains will push Russia's potential growth trajectory lower in the coming years.
Frontier EM Spreads, Default Risks
Russia is not the only emerging markets (EM) where the default drumbeat is getting louder. Several low-income (or frontier) EMs are either in distressed territory or getting close, being hit by exogenous shocks and rising global rates. The current EM High Yield spread (J.P. Morgan's EMBIG Diversified HY Index) is the widest since 2002/03 (with the exception of the global financial crisis and the pandemic crisis – see chart below). By contrast, EM Investment Grade spread (J.P. Morgan's EMBIG Diversified IG Index) is still close to historic lows. Of course, individual countries' circumstances are different (EM is not a monolith), but if the current trends continue, we expect to hear more calls to extend the G20 Common Framework for debt treatment. From the investment perspective, it is also important that several countries in this group are talking to the IMF about new programs and loans – disbursements and news about structural reforms tend to improve sentiment and compress spreads.
EM Central Banks And U.S. Fed Decoupling
And talking about rising global rates, the U.S. Federal Reserve's (Fed's) minutes will be scrutinized this afternoon for signs of either confirming the +50bps pace of rate hikes or perhaps expanding it to +75bps. It's not just "we the market" who are watching the Fed – many EM central banks do the same (despite being way ahead in the current tightening cycle). Mexico's deputy governor, Jonathan Heath, said yesterday that they cannot decouple from the Fed and might need to widen the policy rate differential in order to maintain restrictive stance. Stay tuned!
Chart at a Glance: "Fragile" EM Spreads Are Widening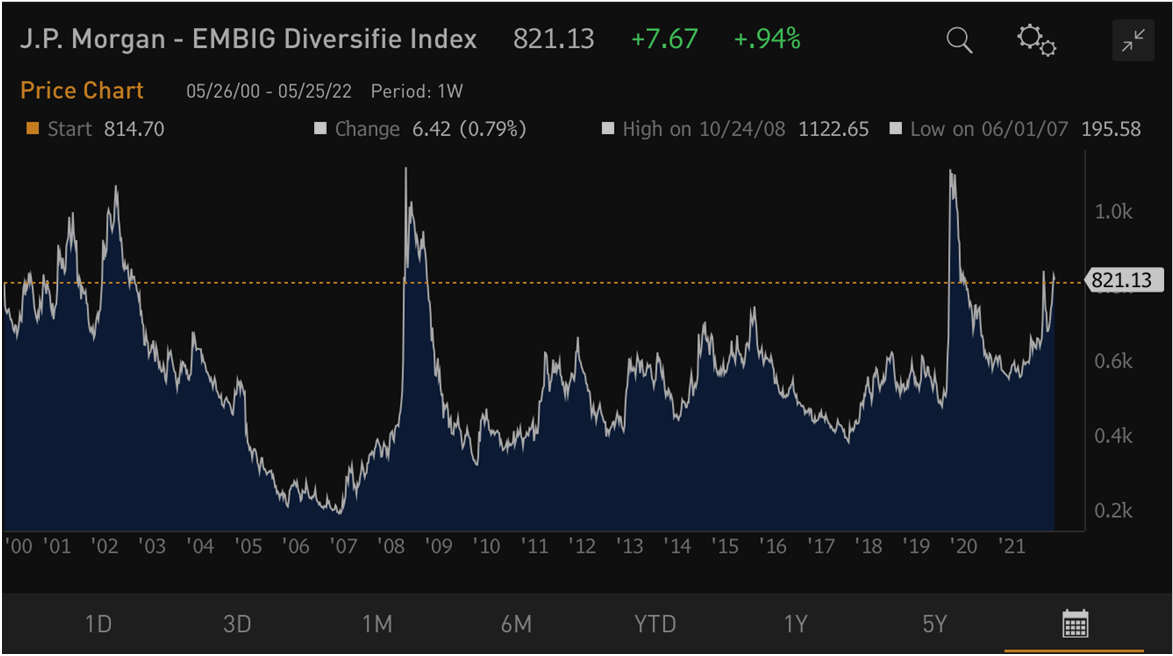 Source: Bloomberg LP
IMPORTANT DEFINITIONS & DISCLOSURES  
This material may only be used outside of the United States.
This is not an offer to buy or sell, or a recommendation of any offer to buy or sell any of the securities mentioned herein. Fund holdings will vary. For a complete list of holdings in VanEck Mutual Funds and VanEck Vectors ETFs, please visit our website at www.vaneck.com.
The information presented does not involve the rendering of personalized investment, financial, legal, or tax advice. Certain statements contained herein may constitute projections, forecasts and other forward looking statements, which do not reflect actual results. Information provided by third-party sources are believed to be reliable and have not been independently verified for accuracy or completeness and cannot be guaranteed. Any opinions, projections, forecasts, and forward-looking statements presented herein are valid as of the date of this communication and are subject to change without notice. The information herein represents the opinion of the author(s), but not necessarily those of VanEck.
The views contained herein are not to be taken as advice or a recommendation to buy or sell any investment in any jurisdiction, nor is it a commitment from Van Eck Associates Corporation or its subsidiaries to participate in any transactions in any companies mentioned herein. This content is published in the United States. Investors are subject to securities and tax regulations within their applicable jurisdictions that are not addressed herein.
All investing is subject to risk, including the possible loss of the money you invest. As with any investment strategy, there is no guarantee that investment objectives will be met and investors may lose money. Diversification does not ensure a profit or protect against a loss in a declining market. Past performance is no guarantee of future results.

Natalia Gurushina
Chief Economist, Emerging Markets Fixed Income