23 February 2021

VanEck Blogs | Emerging Markets Debt Daily

Brazil – Lingering Policy Concerns
Brazilian markets are still on edge, expecting the approval of the emergency aid bill. South Africa's unemployment rate surged to 32.5%.
Brazilian markets are in a calmer mode today, but policy concerns refuse to go away―especially on the fiscal front. The emergency aid bill should be voted on Thursday, and drafts that were circulated in the past few days suggest that the government aims to set a formal rule for future emergency spending, which is good from the structural point of view. The trade-off, however, is that this might not affect this year's spending, and this can potentially push the government debt-to-GDP level to as high as 95-96%.
South Africa's unemployment rate jumped to mind-blowing 32.5% in Q4―way above the pre-lockdown level. We've seen a lot of improvement in the country's high-frequency data lately, but such a high number of unemployed―and unemployable―casts a big shadow on the country's medium-term outlook.
Rising global commodity prices add to concerns about the near-term inflation outlook in emerging markets (EM). Most central banks continue to treat these price pressures as transitory―the chart below indeed suggests that the base effect in commodity prices might turn more disinflationary in the second half of the year. A big risk here is that the pandemic-related distortions and asymmetric price shocks might prove more persistent, which explains why the market continues to price in more policy tightening across EM in the next twelve months.
Charts at a Glance: More Inflation Pressures from Commodity and Shipping Prices?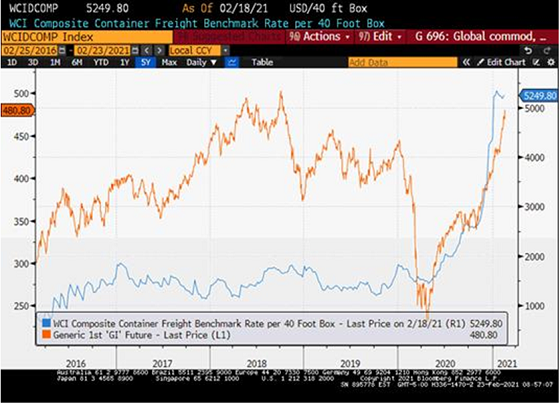 Source: Bloomberg LP
IMPORTANT DEFINITIONS & DISCLOSURES  
This material may only be used outside of the United States.
This is not an offer to buy or sell, or a recommendation of any offer to buy or sell any of the securities mentioned herein. Fund holdings will vary. For a complete list of holdings in VanEck Mutual Funds and VanEck Vectors ETFs, please visit our website at www.vaneck.com.
The information presented does not involve the rendering of personalized investment, financial, legal, or tax advice. Certain statements contained herein may constitute projections, forecasts and other forward looking statements, which do not reflect actual results. Information provided by third-party sources are believed to be reliable and have not been independently verified for accuracy or completeness and cannot be guaranteed. Any opinions, projections, forecasts, and forward-looking statements presented herein are valid as of the date of this communication and are subject to change without notice. The information herein represents the opinion of the author(s), but not necessarily those of VanEck.
The views contained herein are not to be taken as advice or a recommendation to buy or sell any investment in any jurisdiction, nor is it a commitment from Van Eck Associates Corporation or its subsidiaries to participate in any transactions in any companies mentioned herein. This content is published in the United States. Investors are subject to securities and tax regulations within their applicable jurisdictions that are not addressed herein.
All investing is subject to risk, including the possible loss of the money you invest. As with any investment strategy, there is no guarantee that investment objectives will be met and investors may lose money. Diversification does not ensure a profit or protect against a loss in a declining market. Past performance is no guarantee of future results.

Natalia Gurushina
Chief Economist, Emerging Markets Fixed Income Strategy