01 March 2021

VanEck Blogs | Emerging Markets Debt Daily

China Activity Gauges – Down But Not Out
China's activity gauges slowed further in February, but this weakness is likely to be temporary. Activity gauges across EM showed a lot of divergence.
China's activity gauges undershot expectations in February (see chart below), but there are good reasons to believe that the weakness is temporary. First, China's manufacturing typically moderates during the Lunar New Year due to factory closures. But this year's celebrations also coincided with the new COVID restrictions, exacerbating the seasonal pattern. Second, many high-frequency indicators (including energy production by six major power stations) already show improvements compared to January. Third, production and business expectations held on extremely well despite the second wave of the movement restrictions. Finally, the global trade is rebounding – as witnessed for example by increasing container supply from China – which is a welcome tailwind for China's export PMIs.
The latest batch of Emerging Markets (EM) activity gauges (Purchasing Manager Indices, or PMIs) show a lot of divergence among major EM. A sharp increase in South Africa's manufacturing PMI points to a stronger near-term growth outlook, sending – together with a more credible budget – an encouraging signal to the market. Other positive standouts include Poland, the Czech Republic, Brazil, and India - the manufacturing PMIs are well in expansion zone, which might add to the expectation of faster policy normalization in the first three countries. By contrast, negative PMI surprises in Indonesia, Malaysia, and Thailand might force local central banks to strike a more dovish tone.
The Turkish lira staged a major rebound this morning despite a weaker than expected Q4 GDP print. The moderating growth is in line with the slowing credit expansion, which in turn reflects several rate hikes from the central bank. A sharp decline in Turkey's recent activity gauges signals that this trend will continue in Q1. The silver lining here is that softer – but structurally more sound – growth should pave the way for external adjustment and smaller current account deficits, helping to rebuild the international reserves and create a stronger fundamental backdrop for the lira.
Charts at a Glance: China Activity Gauges – Temporary Weakness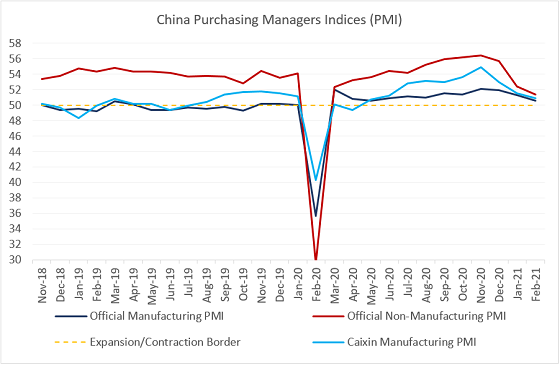 Source: Bloomberg LP
IMPORTANT DEFINITIONS & DISCLOSURES  
This material may only be used outside of the United States.
This is not an offer to buy or sell, or a recommendation of any offer to buy or sell any of the securities mentioned herein. Fund holdings will vary. For a complete list of holdings in VanEck Mutual Funds and VanEck Vectors ETFs, please visit our website at www.vaneck.com.
The information presented does not involve the rendering of personalized investment, financial, legal, or tax advice. Certain statements contained herein may constitute projections, forecasts and other forward looking statements, which do not reflect actual results. Information provided by third-party sources are believed to be reliable and have not been independently verified for accuracy or completeness and cannot be guaranteed. Any opinions, projections, forecasts, and forward-looking statements presented herein are valid as of the date of this communication and are subject to change without notice. The information herein represents the opinion of the author(s), but not necessarily those of VanEck.
The views contained herein are not to be taken as advice or a recommendation to buy or sell any investment in any jurisdiction, nor is it a commitment from Van Eck Associates Corporation or its subsidiaries to participate in any transactions in any companies mentioned herein. This content is published in the United States. Investors are subject to securities and tax regulations within their applicable jurisdictions that are not addressed herein.
All investing is subject to risk, including the possible loss of the money you invest. As with any investment strategy, there is no guarantee that investment objectives will be met and investors may lose money. Diversification does not ensure a profit or protect against a loss in a declining market. Past performance is no guarantee of future results.

Natalia Gurushina
Chief Economist, Emerging Markets Fixed Income Strategy