27 July 2021

VanEck Blogs | Emerging Markets Debt Daily

China Contagion vs EM Policy Breakthroughs
China's sell off continued this morning, but the newsflow in other EM was more encouraging. Which one will prevail?
China contagion concerns dominate this morning, following another big drop in the CSI 300 equity index1 and the fact that China's government bonds sold off (yields widened) in unison with equities (see chart below) instead of acting as a "safe haven" asset. Against this backdrop, the upcoming release of China's activity gauges (PMIs) would be of utmost importance because of their potential to reinforce or undermine China's 2021 growth story. The consensus forecast for 2021 GDP growth is still unchanged at 8.5%, despite tighter regulations in real estate and the tech sectors, and new mobility restrictions/virus outbreaks. Weaker than expected PMIs could become the proverbial straw that broke the camel's back.
The China daily newsflow contrasts with the rest of emerging markets (EM), where we see more evidence of orthodox policies in action. Hungary's central bank delivered a hawkish surprise this morning, raising its benchmark rate by more than expected in an attempt to keep inflation pressures under control. This is the second consecutive rate hike, and central bank officials made it very clear that their policies have to be proactive in order to bring annual inflation from >5% back to the 3% target.
Across the globe, South Africa's public sector unions agreed to the government's wage increase proposal that was already budgeted. This is very good news, given that the recent deadly riots led to the extension of fiscal support. We watch South Africa's developments with interest because the riots opened the door for political changes - especially as regards the balance of forces inside the ANC and between the ANC and other political actors. Moving away from the ANC infighting and improving South Africa's fiscal and growth trajectories would be a real game-changer (both for equities and bonds). Stay tuned!
Charts at a Glance: China Government Bonds Feeling the Tech Rout's Heat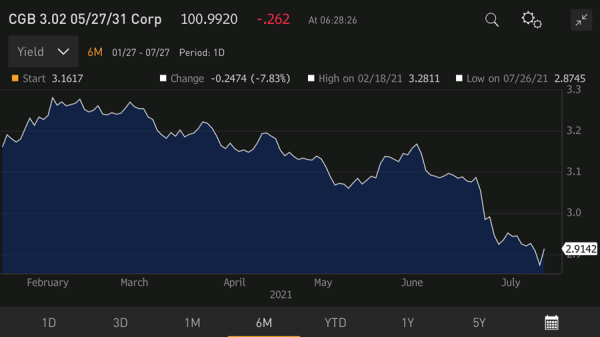 Source: Bloomberg LP



1The CSI 300 Index is comprised of the 300 largest and most liquid stocks in the Chinese A-share market.
IMPORTANT DEFINITIONS & DISCLOSURES  
This material may only be used outside of the United States.
This is not an offer to buy or sell, or a recommendation of any offer to buy or sell any of the securities mentioned herein. Fund holdings will vary. For a complete list of holdings in VanEck Mutual Funds and VanEck Vectors ETFs, please visit our website at www.vaneck.com.
The information presented does not involve the rendering of personalized investment, financial, legal, or tax advice. Certain statements contained herein may constitute projections, forecasts and other forward looking statements, which do not reflect actual results. Information provided by third-party sources are believed to be reliable and have not been independently verified for accuracy or completeness and cannot be guaranteed. Any opinions, projections, forecasts, and forward-looking statements presented herein are valid as of the date of this communication and are subject to change without notice. The information herein represents the opinion of the author(s), but not necessarily those of VanEck.
The views contained herein are not to be taken as advice or a recommendation to buy or sell any investment in any jurisdiction, nor is it a commitment from Van Eck Associates Corporation or its subsidiaries to participate in any transactions in any companies mentioned herein. This content is published in the United States. Investors are subject to securities and tax regulations within their applicable jurisdictions that are not addressed herein.
All investing is subject to risk, including the possible loss of the money you invest. As with any investment strategy, there is no guarantee that investment objectives will be met and investors may lose money. Diversification does not ensure a profit or protect against a loss in a declining market. Past performance is no guarantee of future results.

Natalia Gurushina
Chief Economist, Emerging Markets Fixed Income Strategy