22 February 2021

VanEck Blogs | Emerging Markets Debt Daily

EM - New Hurdles or Normal Consolidation?
EM assets were caught in the global risk-off sentiment, but some selloffs were "home-made", like in Brazil. Fitch upgraded Turkey's outlook to "stable", citing the improved policy mix.
The "T" word (tantrum) was mentioned on more than one occasion this morning, and emerging markets (EM) assets sold off in sympathy with other risk assets. Market pullbacks do happen in the rising yield environment, but what happens when the rate selloff stops is also important. EM growth is recovering and the global macro backdrop for EM is not bad at all―including higher commodity prices (see chart below). One obvious risk is that EM might look worse than developed markets (DM) on the vaccination front―developments in EM majors like South Africa, Mexico, Brazil and Turkey will be key in this regard.
The pain experienced by Brazilian markets this morning was mostly "home-made". President Jair Bolsonaro's surprising decision to replace the CEO of the state-owned oil giant Petrobras (and appoint a retired army general in his stead) sent the stock market into a tailspin (the Bovespa index1 was down by 523bps at 9:40am ET, according to Bloomberg LP). The appointment raised a lot of questions about broader implications for the economy―including the return of government interference in the face of political pressures and state-owned enterprises' (SOE) pricing policies/asset sales―which explains the knock-down effect on the currency and bonds.
Turkey's policy U-turn finally got the nod of approval from a rating agency. Fitch raised the sovereign outlook to "stable" citing the return to "a more consistent and orthodox policy mix" that helped to reduce near-term external risks. The renewal of the central bank's commitment for a floating exchange rate and inflation targeting were also duly noted. Turkish assets were caught in the global risk-off sentiment this morning, but the fundamental outlook is undeniably brighter these days.
Charts at a Glance: Higher Commodity Prices Are EM-Positive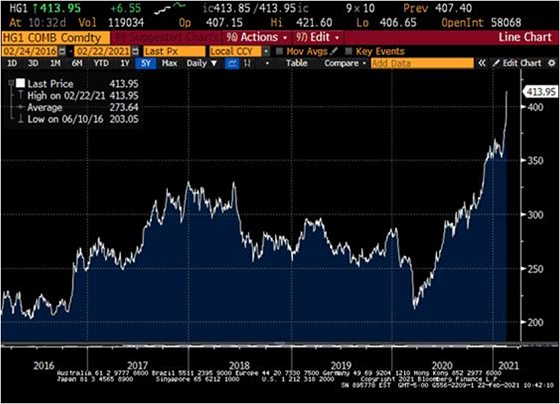 Source: Bloomberg LP
1Bovespa Index ― best known as Ibovespa, is the benchmark index of about 70 stocks that are traded on the Brazil Stock Exchange and Over-the-Counter Market, which account for the majority of trading and market capitalization in the Brazilian stock market.
IMPORTANT DEFINITIONS & DISCLOSURES  
This material may only be used outside of the United States.
This is not an offer to buy or sell, or a recommendation of any offer to buy or sell any of the securities mentioned herein. Fund holdings will vary. For a complete list of holdings in VanEck Mutual Funds and VanEck Vectors ETFs, please visit our website at www.vaneck.com.
The information presented does not involve the rendering of personalized investment, financial, legal, or tax advice. Certain statements contained herein may constitute projections, forecasts and other forward looking statements, which do not reflect actual results. Information provided by third-party sources are believed to be reliable and have not been independently verified for accuracy or completeness and cannot be guaranteed. Any opinions, projections, forecasts, and forward-looking statements presented herein are valid as of the date of this communication and are subject to change without notice. The information herein represents the opinion of the author(s), but not necessarily those of VanEck.
The views contained herein are not to be taken as advice or a recommendation to buy or sell any investment in any jurisdiction, nor is it a commitment from Van Eck Associates Corporation or its subsidiaries to participate in any transactions in any companies mentioned herein. This content is published in the United States. Investors are subject to securities and tax regulations within their applicable jurisdictions that are not addressed herein.
All investing is subject to risk, including the possible loss of the money you invest. As with any investment strategy, there is no guarantee that investment objectives will be met and investors may lose money. Diversification does not ensure a profit or protect against a loss in a declining market. Past performance is no guarantee of future results.

Natalia Gurushina
Chief Economist, Emerging Markets Fixed Income Strategy