29 July 2021

VanEck Blogs | Emerging Markets Debt Daily

EM Policy Contagions - From Good to Controversial
A tame Fed provided a much-needed market respite, and EM with strong policy frameworks are set to benefit. As this happens, be mindful of EM policy "contagions" of another kind, which can be less forgiving.
A prospect of China's tech contagion spooked the market big time earlier this week, but it looks like a combination of some local damage control, a tame U.S. Federal Reserve (Fed) and the fact that U.S. GDP finally exceeded the pre-pandemic level in real terms (see chart below) provided a much needed respite. This might be a good moment to talk about another kind of emerging markets (EM) contagion - policy "contagions" - and we start with the one that is outright good. "EM Policy Contagion of the First Kind" is the proliferation of orthodox monetary policies across EM. The most obvious manifestation, at this moment, is the frontloading of EM rate hikes in order to cap inflation risks (and not because of the Fed). The Czech National Bank might be the next in line after some board members called for more aggressive tightening. Even the Turkish Central Bank sounded cautious in its just-released quarterly inflation report. If you check today's EM FX performance ranking, many currencies with "aggressive" central banks behind them are in the lead.
"EM Policy Contagion of the Second Kind" has some populist connotations and should be watched closely. We are talking about withdrawals from private pension funds to ease near-term economic hardship. LATAM currently dominates the headlines, but now it looks like South Africa really liked the idea and might soon join the club. The immediate market impact of these measures is more ambiguous - especially in countries where pension funds' assets are huge as a percentage of GDP (like in Chile or South Africa). But the longer-term impact from multiple withdrawals on the fiscal trajectory and local debt and equity markets could be negative.
"EM Policy Contagion of the Third Kind" is more fundamental, and it has to do with re-writing constitutions. This is an "idée fixe" in certain political circles in Mexico. Chile just had its constitutional referendum, and yesterday, newly-inaugurated President of Peru, Pedro Castillo, reiterated that he would seek to do the same via the Constitutional Assembly. So, is Peru leaning left? Most likely yes. But (1) it remains to be seen whether Castillo will have enough votes in the parliament, and (2) the new cabinet's lineup is likely to have a more immediate market impact. Stay tuned!
Charts at a Glance: U.S. Real GDP Finally Closes COVID Gap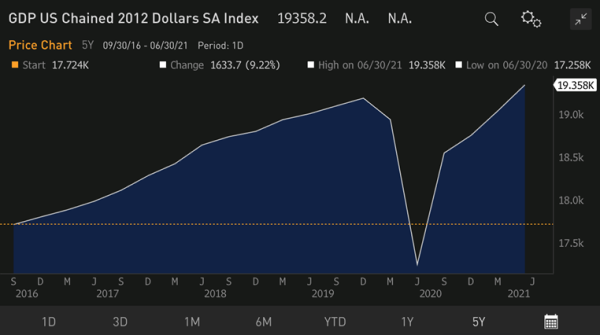 Source: Bloomberg LP
IMPORTANT DEFINITIONS & DISCLOSURES  
This material may only be used outside of the United States.
This is not an offer to buy or sell, or a recommendation of any offer to buy or sell any of the securities mentioned herein. Fund holdings will vary. For a complete list of holdings in VanEck Mutual Funds and VanEck Vectors ETFs, please visit our website at www.vaneck.com.
The information presented does not involve the rendering of personalized investment, financial, legal, or tax advice. Certain statements contained herein may constitute projections, forecasts and other forward looking statements, which do not reflect actual results. Information provided by third-party sources are believed to be reliable and have not been independently verified for accuracy or completeness and cannot be guaranteed. Any opinions, projections, forecasts, and forward-looking statements presented herein are valid as of the date of this communication and are subject to change without notice. The information herein represents the opinion of the author(s), but not necessarily those of VanEck.
The views contained herein are not to be taken as advice or a recommendation to buy or sell any investment in any jurisdiction, nor is it a commitment from Van Eck Associates Corporation or its subsidiaries to participate in any transactions in any companies mentioned herein. This content is published in the United States. Investors are subject to securities and tax regulations within their applicable jurisdictions that are not addressed herein.
All investing is subject to risk, including the possible loss of the money you invest. As with any investment strategy, there is no guarantee that investment objectives will be met and investors may lose money. Diversification does not ensure a profit or protect against a loss in a declining market. Past performance is no guarantee of future results.

Natalia Gurushina
Chief Economist, Emerging Markets Fixed Income Strategy