14 June 2022

VanEck Blogs | Emerging Markets Debt Daily

Global Rates – The Adjustment Bureau
It is still an open question whether EMs will be forced to follow the Fed's more hawkish policy stance. The market thinks this might not necessarily be the case for some of them.
Global Rate Expectations Sharply Higher
Yesterday's market tantrum was brutal. The daily increase in the 2-year U.S. Treasury yield was the 10thlargest since 1983. The market expectations for this week's U.S. Federal Reserve (Fed) decision jumped to +74bps (from 56bps on Friday), and Bloomberg's Fed Funds Futures page continued to show a +75bps/+70bps rate hike combo for June/July this morning. The near-inversion of the U.S. Treasury curve (see chart below) – the world's favorite recession indicator – is back on the front-burner, and today's sad-looking small business optimism index (which comes on the heels of the shockingly weak University of Michigan survey) added to concerns about the U.S. – and global – growth outlook.
No Additional Hikes Price in Brazil
The current tightening cycle in the U.S. is different for many emerging markets (EM), because they started to adjust their own policy rates (in response to rising inflation) well before the Fed. The Brazilian central bank was among the trailblazers – and it frontloaded rate hikes very aggressively (Brazil's real policy rate adjusted by expected inflation is the highest in EM). And we are wondering whether this is the reason why the local swap curve is not in a hurry to price in a lot of additional tightening, despite the more hawkish Fed (the terminal rate in the U.S. is now seen above 4%). The market-implied rate expectations for Brazil stayed close to +55bps for tomorrow's rate-setting meeting (a slower pace of tightening), followed by an even smaller (35-38bps) hike in August.
EM Central Banks – Potential Surprises Ahead
We have several policy meetings scheduled in EM until the end of the month – but some will be watched more carefully than others, starting with the Czech National Bank, which is going through a dovish board reshuffle, and where the outgoing hawks might deliver an oversized "goodbye" rate hike. Mexico is another interesting case – inflation pressures suggest that it will be difficult to avoid stepping up the pace of hikes to 75bps, especially if the Fed does the same. Finally, in EM Asia, Indonesia is among very few countries with inflation still within the official target range – but the central bank had fired the first warning shot last month in the form of an additional hike in the reserve requirements for banks, and the buzz about a proper rate hike there is getting louder. Stay tuned!
Chart at a Glance: 2Y-10Y U.S. Treasury Curve Near-Inversion Re-Ignites Recession Fears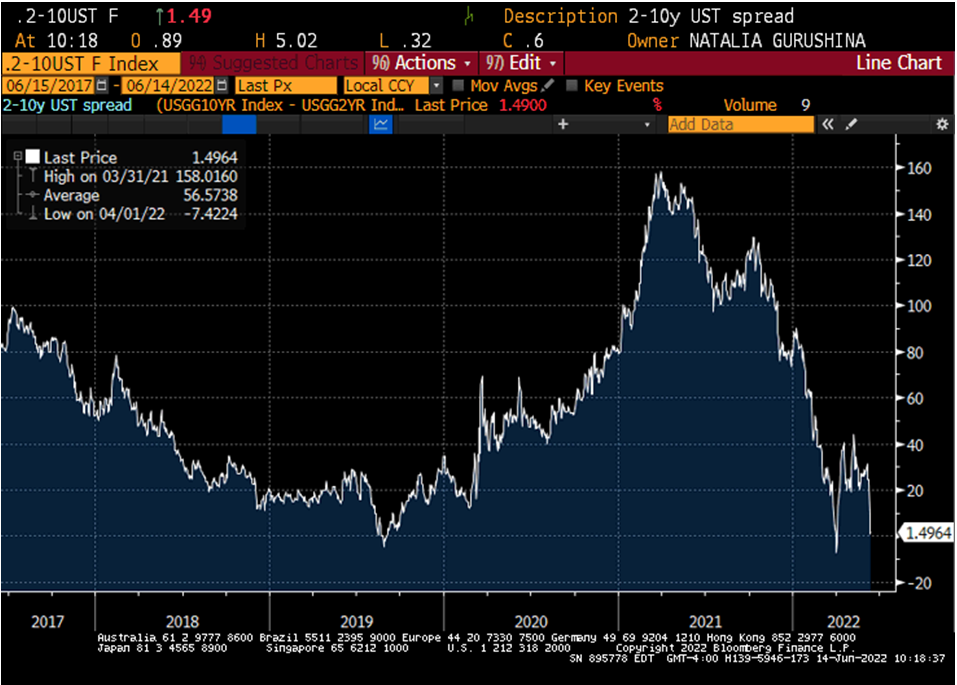 Source: Bloomberg LP
IMPORTANT DEFINITIONS & DISCLOSURES  
This material may only be used outside of the United States.
This is not an offer to buy or sell, or a recommendation of any offer to buy or sell any of the securities mentioned herein. Fund holdings will vary. For a complete list of holdings in VanEck Mutual Funds and VanEck Vectors ETFs, please visit our website at www.vaneck.com.
The information presented does not involve the rendering of personalized investment, financial, legal, or tax advice. Certain statements contained herein may constitute projections, forecasts and other forward looking statements, which do not reflect actual results. Information provided by third-party sources are believed to be reliable and have not been independently verified for accuracy or completeness and cannot be guaranteed. Any opinions, projections, forecasts, and forward-looking statements presented herein are valid as of the date of this communication and are subject to change without notice. The information herein represents the opinion of the author(s), but not necessarily those of VanEck.
The views contained herein are not to be taken as advice or a recommendation to buy or sell any investment in any jurisdiction, nor is it a commitment from Van Eck Associates Corporation or its subsidiaries to participate in any transactions in any companies mentioned herein. This content is published in the United States. Investors are subject to securities and tax regulations within their applicable jurisdictions that are not addressed herein.
All investing is subject to risk, including the possible loss of the money you invest. As with any investment strategy, there is no guarantee that investment objectives will be met and investors may lose money. Diversification does not ensure a profit or protect against a loss in a declining market. Past performance is no guarantee of future results.

Natalia Gurushina
Chief Economist, Emerging Markets Fixed Income