28 July 2021

VanEck Blogs | Emerging Markets Debt Daily

Growth, Rebalancing and Persistence
The vaccination gap between EM and DM is the main reason why the IMF lowered its 2021 growth forecast for EM. The IMF also expressed concerns that inflation risks can prove more persistent.
The U.S. Federal Reserve's (Fed's) policy verdict is the focus of the day, especially as regards any taper considerations and the outlook for the economy. Past experience shows that a taper announcement can produce a knee-jerk reaction among emerging markets (EM) assets, but EM tend to perform quite well once the Fed starts hiking, as long as higher rates reflect stronger growth. For what it's worth, there is a lot of optimism about U.S. prospects outside the Fed. The consensus growth forecast for 2021 is still unchanged at 6.6%, and the IMF just raised its 2021 U.S. growth forecast by 0.6% to 7% and the 2022 forecast by whopping 1.4% to 4.9%.
The IMF's numbers come from the newly updated World Economic Outlook, which has some interesting takeaways besides the U.S. growth. The key words are "rebalancing" and "persistence". "Rebalancing" refers to growth upgrades and downgrades in EM vs. developed markets (DM). The main "fault line" is access to vaccinations. EM vaccinations are picking up, but the rate is still much lower than in DM (see chart below), which is why the IMF lowered the 2021 EM GDP by 0.4% (to still respectable 6.3%), while raising the projection for DM. The region with the deepest forecast cut is EM Asia.
"Persistence" refers to inflation risks. The key concern for the IMF is the evolution of inflation expectations against the backdrop of the "unchartered" recovery that comes after the "unprecedented" recession. The IMF's main focus is on fiscal support (which is still significant) and large household savings - both of which can affect inflation expectations and push them higher. We are curious whether the Fed's verdict will be the same. Stay tuned!
Charts at a Glance: Vaccinations - Big Gap Between EM and DM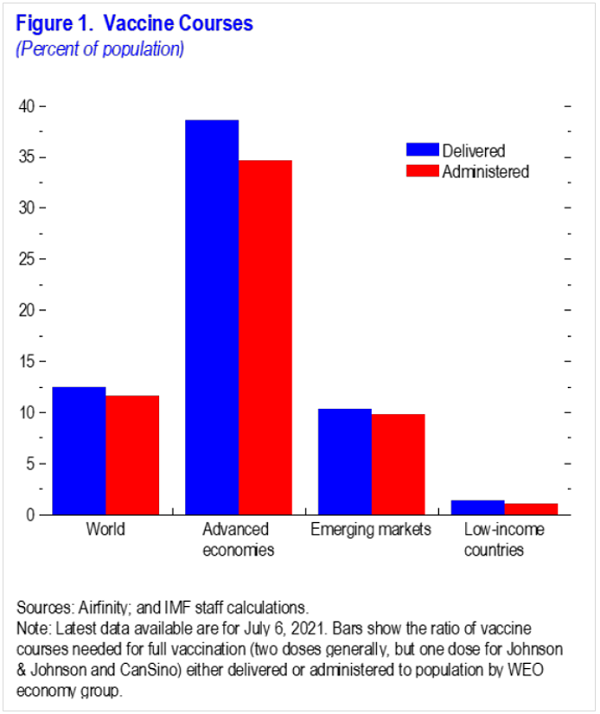 Source: International Monetary Fund
IMPORTANT DEFINITIONS & DISCLOSURES  
This material may only be used outside of the United States.
This is not an offer to buy or sell, or a recommendation of any offer to buy or sell any of the securities mentioned herein. Fund holdings will vary. For a complete list of holdings in VanEck Mutual Funds and VanEck Vectors ETFs, please visit our website at www.vaneck.com.
The information presented does not involve the rendering of personalized investment, financial, legal, or tax advice. Certain statements contained herein may constitute projections, forecasts and other forward looking statements, which do not reflect actual results. Information provided by third-party sources are believed to be reliable and have not been independently verified for accuracy or completeness and cannot be guaranteed. Any opinions, projections, forecasts, and forward-looking statements presented herein are valid as of the date of this communication and are subject to change without notice. The information herein represents the opinion of the author(s), but not necessarily those of VanEck.
The views contained herein are not to be taken as advice or a recommendation to buy or sell any investment in any jurisdiction, nor is it a commitment from Van Eck Associates Corporation or its subsidiaries to participate in any transactions in any companies mentioned herein. This content is published in the United States. Investors are subject to securities and tax regulations within their applicable jurisdictions that are not addressed herein.
All investing is subject to risk, including the possible loss of the money you invest. As with any investment strategy, there is no guarantee that investment objectives will be met and investors may lose money. Diversification does not ensure a profit or protect against a loss in a declining market. Past performance is no guarantee of future results.

Natalia Gurushina
Chief Economist, Emerging Markets Fixed Income Strategy