24 May 2022

VanEck Blogs | Emerging Markets Debt Daily

"Jagged" Growth = Sharper Disinflation?
A lot of EM inflation surprises are to the upside. Can weaker growth pave the way to disinflation, or is stagflation still the baseline?
Weaker Consumer Confidence, Growth Cliff Risks
High inflation continues to dampen consumer confidence in many parts of emerging markets (EM), reinforcing concerns about a growth cliff later this year after a generally strong Q1. The initial post-pandemic consumption "euphoria" is still driving services, but the widening gap between relatively robust business and weakening consumer confidence surveys – as well as between the current assessment and expectations – is getting harder to ignore. We saw this in Hungary yesterday, and today's data releases in the Czech Republic showed exactly the same picture. Of course, Central Europe is in a unique position among EM, as EU funds create a sizable external fiscal impulse of sorts (supporting business confidence). As for the rest of EM, this year's growth profile might indeed end up more "jagged", potentially leading to sharper market sentiment swings.
EM Inflation, Pace of Rate Hikes
It remains to be seen whether "jagged" growth would pave the way for sharper disinflation in the coming months – the stagflation scenario tells otherwise, and the latest inflation prints in EM are still on the strong side. Brazil had yet another upside surprise this morning (12.2% year-on year), which suggests that there may be room for more than one rate hike in the current cycle. Mexico's bi-weekly inflation might be showing signs of stabilization (see chart below) and perhaps arguing against a faster pace of hikes (+75bps). However, both core and headline inflation are running well above 7%, and this means "hike, baby, hike" at 50bps per rate-setting meeting for the time being.
EM Asia Catching Up With Peer Central Banks
The recent policy moves show that EM Asia has caught a hawkish "bug" from its peers in EMEA and LATAM. Pakistan delivered a larger than expected 150bps rate hike yesterday – continuing a line of hawkish surprises that started with India, and now also includes Malaysia and the Philippines. Indonesia held its policy rate – and major forecasts (growth, inflation) – on hold today, citing global growth concerns, but it decided to further raise the reserve requirements for banks. Thailand's rate-setting meeting is coming soon – can the central bank continue to ignore inflation risks? Stay tuned!
Chart at a Glance: Mexico Inflation - A Change of Direction?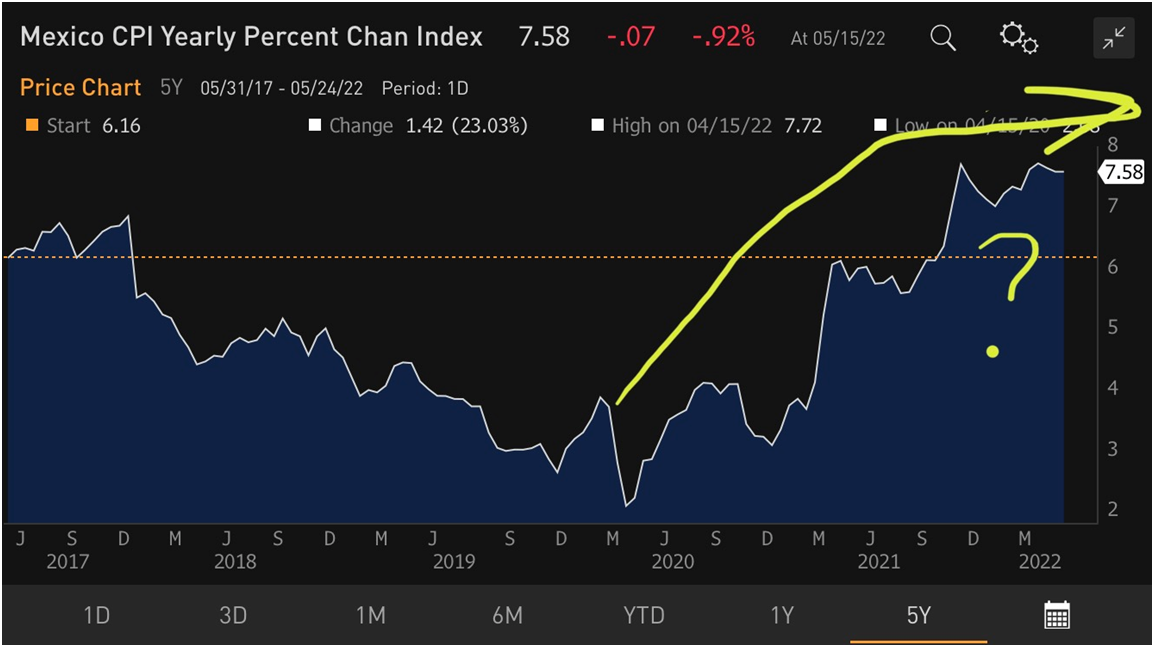 Source: Bloomberg LP
IMPORTANT DEFINITIONS & DISCLOSURES  
This material may only be used outside of the United States.
This is not an offer to buy or sell, or a recommendation of any offer to buy or sell any of the securities mentioned herein. Fund holdings will vary. For a complete list of holdings in VanEck Mutual Funds and VanEck Vectors ETFs, please visit our website at www.vaneck.com.
The information presented does not involve the rendering of personalized investment, financial, legal, or tax advice. Certain statements contained herein may constitute projections, forecasts and other forward looking statements, which do not reflect actual results. Information provided by third-party sources are believed to be reliable and have not been independently verified for accuracy or completeness and cannot be guaranteed. Any opinions, projections, forecasts, and forward-looking statements presented herein are valid as of the date of this communication and are subject to change without notice. The information herein represents the opinion of the author(s), but not necessarily those of VanEck.
The views contained herein are not to be taken as advice or a recommendation to buy or sell any investment in any jurisdiction, nor is it a commitment from Van Eck Associates Corporation or its subsidiaries to participate in any transactions in any companies mentioned herein. This content is published in the United States. Investors are subject to securities and tax regulations within their applicable jurisdictions that are not addressed herein.
All investing is subject to risk, including the possible loss of the money you invest. As with any investment strategy, there is no guarantee that investment objectives will be met and investors may lose money. Diversification does not ensure a profit or protect against a loss in a declining market. Past performance is no guarantee of future results.

Natalia Gurushina
Chief Economist, Emerging Markets Fixed Income