17 June 2022

VanEck Blogs | Emerging Markets Debt Daily

Suspenseful Weekend in EM
Colombia's presidential runoff, Ukraine's EU candidacy and China's pro-growth policies will be closely watched over the weekend.
LATAM Politics and Policy Agenda
The Latin America (LATAM) portion of the emerging markets (EM) local bond index (J.P. Morgan's GBI-EM Global Diversified) held on quite well so far this year (as regards to total return in U.S. dollars – see chart below), so we naturally keep an eye on potential catalysts that can either extend outperformance vs. peers or push it in the opposite direction. The second round of Colombia's presidential elections on Sunday is one such event. Colombia accounts for 4.6% of the local bond index (=sizable), the elections are too close to call and the market implications can be very different depending on who wins – the leftist candidate Gustavo Petro or the independent candidate Rodolfo Hernandez (he performed surprisingly well in the first round).
Europe's Ukraine Policy
EM Europe (and Europe at large) will also be on our minds – Ukraine's EU candidate status was backed by the European Commission earlier today, and it's now up to the EU leaders' summit on June 23 to give it a formal approval. This process will be closely watched by holders of Ukraine's sovereign bond maturing in September – the bond rallied a lot after hitting a bottom soon after Russia's invasion, but further price advances stalled since mid-May.
China's Response to Growth Headwinds
Moving to EM Asia, China's earlier than expected Politburo meeting attracted attention today, against the backdrop of the on-going downgrade of this year's consensus growth forecast (now at 4.3% vs. the official target of around 5.5%). News reports suggest that the meeting focused specifically on the banking/financial sector. Does this mean more emphasis on regulations as opposed to, say, additional policy rate cuts? The central bank's decision on Loan Prime rates will be announced over the weekend. The consensus sees no change after the medium-term lending facility rate was kept on hold – but watch this space and stay tuned!
Chart at a Glance: 10 Years of LATAM Local Debt Performance (% year-to-date)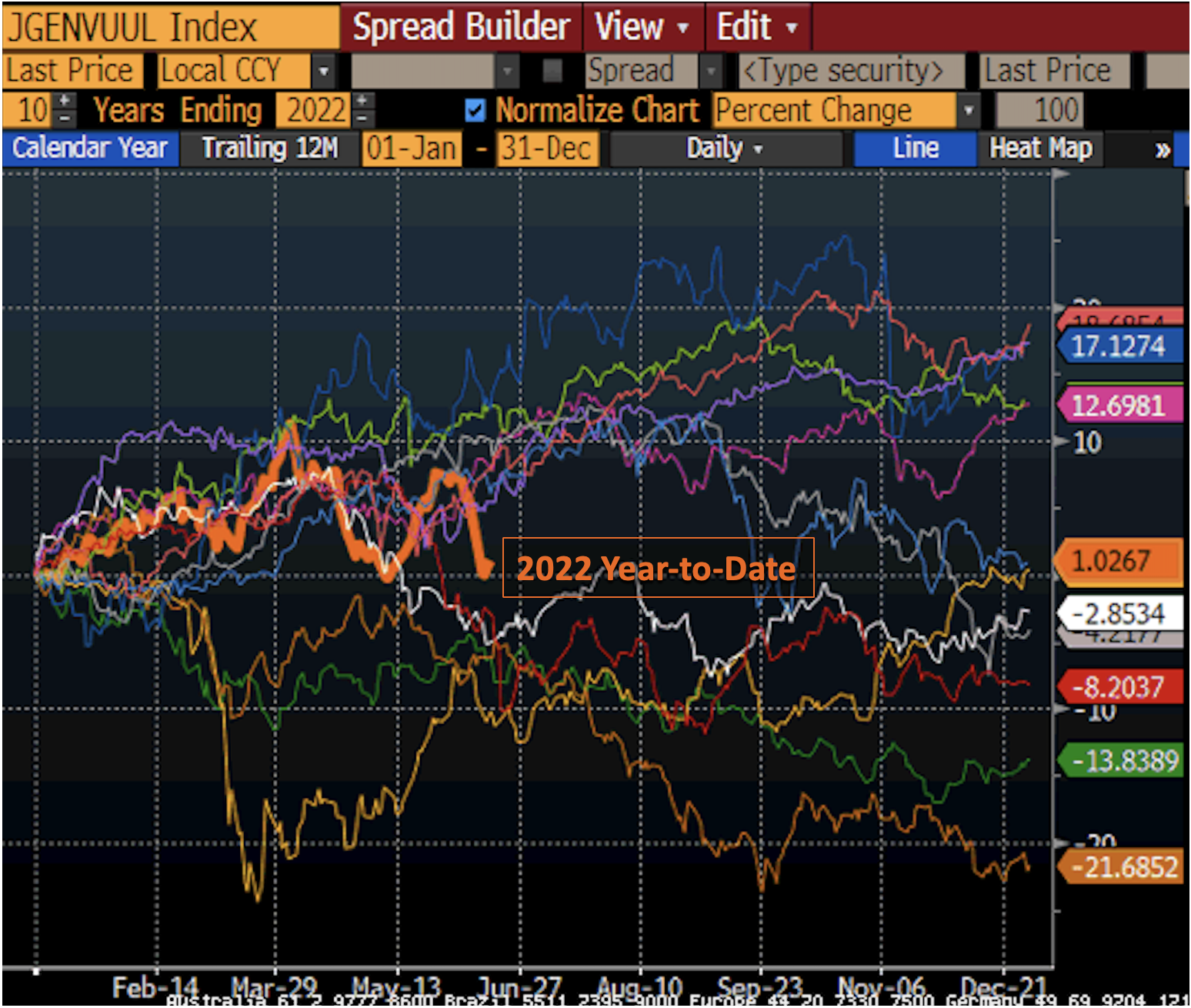 Source: Bloomberg LP
IMPORTANT DEFINITIONS & DISCLOSURES  
This material may only be used outside of the United States.
This is not an offer to buy or sell, or a recommendation of any offer to buy or sell any of the securities mentioned herein. Fund holdings will vary. For a complete list of holdings in VanEck Mutual Funds and VanEck Vectors ETFs, please visit our website at www.vaneck.com.
The information presented does not involve the rendering of personalized investment, financial, legal, or tax advice. Certain statements contained herein may constitute projections, forecasts and other forward looking statements, which do not reflect actual results. Information provided by third-party sources are believed to be reliable and have not been independently verified for accuracy or completeness and cannot be guaranteed. Any opinions, projections, forecasts, and forward-looking statements presented herein are valid as of the date of this communication and are subject to change without notice. The information herein represents the opinion of the author(s), but not necessarily those of VanEck.
The views contained herein are not to be taken as advice or a recommendation to buy or sell any investment in any jurisdiction, nor is it a commitment from Van Eck Associates Corporation or its subsidiaries to participate in any transactions in any companies mentioned herein. This content is published in the United States. Investors are subject to securities and tax regulations within their applicable jurisdictions that are not addressed herein.
All investing is subject to risk, including the possible loss of the money you invest. As with any investment strategy, there is no guarantee that investment objectives will be met and investors may lose money. Diversification does not ensure a profit or protect against a loss in a declining market. Past performance is no guarantee of future results.

Natalia Gurushina
Chief Economist, Emerging Markets Fixed Income