21 June 2022

VanEck Blogs | Emerging Markets Debt Daily

Testing Policy Convictions
Elections Matter – Colombia's Policy Agenda
The market continues to price in more rate hikes in developed markets (DM), and the question is how emerging markets (EM) policy-makers will respond to this changing environment, especially if there are major shifts on the political front – like in Colombia. Leftist presidential candidate Gustavo Petro emerged victorious in the weekend's runoff, raising concerns about the country's policy agenda (both substance and sequencing) and institutional stability. The focus now shifts to the new cabinet's lineup – the experience of Colombia's regional peers shows that market-friendly names can do wonders for the market sentiment. At least one rating agency – S&P – decided to fire a warning shot saying that it can downgrade Colombia if the new policy agenda negatively affects the growth trajectory.
Brazil Ready To Wind Down Its Tightening Cycle
The policy agenda (especially the fiscal side) will be closely watched in another major Latin America (LATAM) economy – Brazil – as we are getting closer to the presidential elections. But for now, the market believes that this should not prevent the central bank from winding down its tightening cycle in the next few months. Aggressive policy frontloading pushed Brazil's real policy rate well into restrictive zone (i.e. above neutral rate - see chart below). So, even though the central bank minutes released today sounded very hawkish, the market expectations for rate hikes are fizzling out – the local swap curve now prices in less than +40bps for August, and around 20bps for September.
EM Central Banks – Follow The Fed?
Brazil is not the only country which might exit the hiking cycle soon. Another central bank on our watch list is the Czech National Bank (CNB) – but the reasons are more worrisome. The CNB's most outspoken hawks had been purged, and their replacements (including incoming Governor) are decidedly more dovish. A large "goodbye" rate hike tomorrow can put the CNB on hold for a long time despite high inflation pressures - and it even raises the possibility of a subsequent rate cut, which would be a bad case scenario. Post-Fed monetary policy convictions will also be tested in Mexico (+75bps or +100bps?), the Philippines (another +25bps or more?), and Indonesia (finally, a proper rate hike?). So, stay tuned!
Chart at a Glance: Brazil – Aggressive Rate Hikes Pave the Way for Exiting the Cycle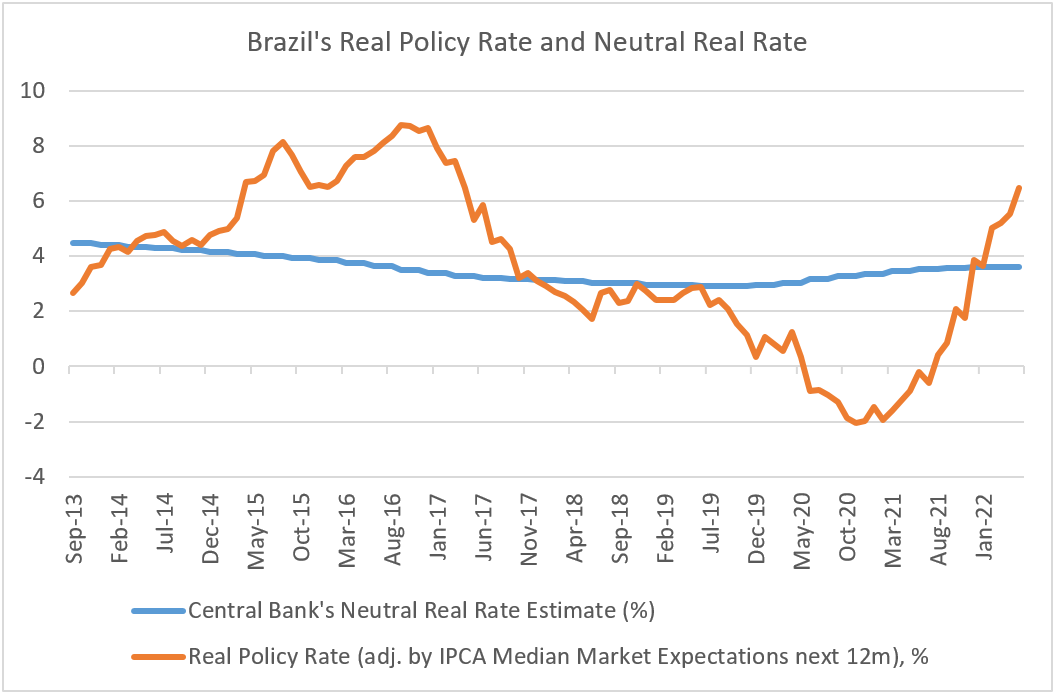 Source: VanEck Research; Bloomberg LP
IMPORTANT DEFINITIONS & DISCLOSURES  
This material may only be used outside of the United States.
This is not an offer to buy or sell, or a recommendation of any offer to buy or sell any of the securities mentioned herein. Fund holdings will vary. For a complete list of holdings in VanEck Mutual Funds and VanEck Vectors ETFs, please visit our website at www.vaneck.com.
The information presented does not involve the rendering of personalized investment, financial, legal, or tax advice. Certain statements contained herein may constitute projections, forecasts and other forward looking statements, which do not reflect actual results. Information provided by third-party sources are believed to be reliable and have not been independently verified for accuracy or completeness and cannot be guaranteed. Any opinions, projections, forecasts, and forward-looking statements presented herein are valid as of the date of this communication and are subject to change without notice. The information herein represents the opinion of the author(s), but not necessarily those of VanEck.
The views contained herein are not to be taken as advice or a recommendation to buy or sell any investment in any jurisdiction, nor is it a commitment from Van Eck Associates Corporation or its subsidiaries to participate in any transactions in any companies mentioned herein. This content is published in the United States. Investors are subject to securities and tax regulations within their applicable jurisdictions that are not addressed herein.
All investing is subject to risk, including the possible loss of the money you invest. As with any investment strategy, there is no guarantee that investment objectives will be met and investors may lose money. Diversification does not ensure a profit or protect against a loss in a declining market. Past performance is no guarantee of future results.

Natalia Gurushina
Chief Economist, Emerging Markets Fixed Income