13 June 2022

VanEck Blogs | Emerging Markets Debt Daily

To Frontload Or Not To Frontload
The market pushes up the expectations for the U.S. Federal Reserve's policy rate, responding to inflation concerns. Where does this leave EM central banks, which had already done a lot of tightening?
More Hikes, Higher Terminal Rate Expectation For The U.S.
India's downside (and seemingly off the peak) inflation surprise would normally be a highlight of the day in emerging markets (EM), but this morning developed markets (DM) – and especially the U.S. – are stealing attention. The market continues to internalize Friday's above-consensus inflation print – and the sentiment continues to sour due to the realization that the Federal Reserve (the Fed) might need to frontload more rate hikes to bring inflation under control and make sure that expectations remain anchored. As of this morning, the Fed Funds Futures are pricing close to a +60bps/+60bps/+60bps combo for the next three meetings (June/July/September – see chart below) and the terminal rate that is now close to 4%. The question is where this leaves EM central banks, many of which had already done a lot of tightening/frontloading.
More Hikes Priced In For EM, But Some Central Banks Beg To Differ
A quick glance at the Bloomberg's page with market-implied policy rates shows an upward adjustment in 1-year ahead expectations for the majority of central banks in the past 30 days (they are now at the top of the range). Most policy rates in EM Asia are now expected to peak in 2 years. We are also seeing more central banks in LATAM with the double-digit terminal rate – not just Brazil, but also Colombia and Chile, with Mexico being very close to that threshold (9.91%). The timeline for the Central European peak rates has been extended to 1 year – but this is not a signal that we are getting from most recent statements/policy actions coming from Poland and the Czech Republic. Poland's central bank Governor Adam Glapinski unexpectedly suggested that the tightening cycle is coming to an end. The Czech national bank's hawks are leaving at the end of the month to be replaced by the dovish governor and new board members. This is not a good setup for the region's local currency bonds.
Current Accounts Provide Less Support For Some Currencies
Central European currencies are firmly at the bottom of EM pile when it comes to the year-to-date performance vs. U.S. Dollar (just above the Argentine peso and the Turkish lira). The impact of the Russia/Ukraine war is one obvious reason. But there are growing concerns that central banks might be falling behind the curve, especially when fundamental support from other factors – such as the current account balance – is waning. Poland's current account gap widened much more than expected in April (EUR3.9B) – the largest in the current series (since 2003). Hungary's Q4 current account deficit was the largest since the global financial crisis of 2008. Time for policy correction? Stay tuned!
Chart at a Glance: Higher Inflation = Higher Market Expectations for the Fed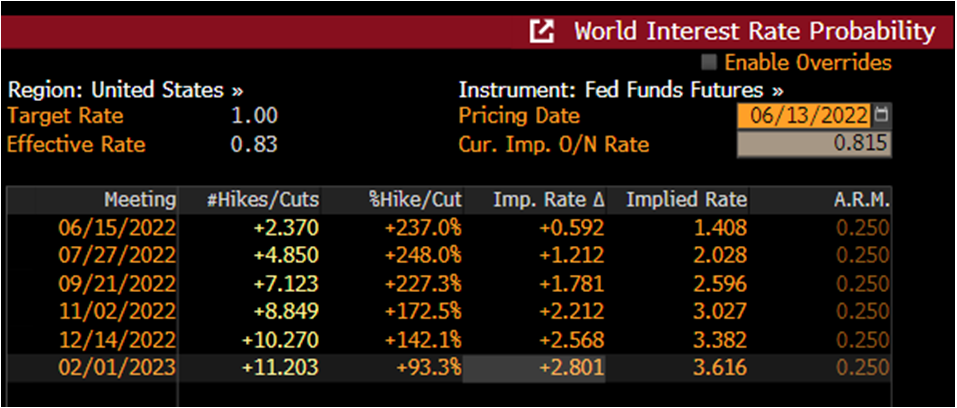 Source: Bloomberg LP
IMPORTANT DEFINITIONS & DISCLOSURES  
This material may only be used outside of the United States.
This is not an offer to buy or sell, or a recommendation of any offer to buy or sell any of the securities mentioned herein. Fund holdings will vary. For a complete list of holdings in VanEck Mutual Funds and VanEck Vectors ETFs, please visit our website at www.vaneck.com.
The information presented does not involve the rendering of personalized investment, financial, legal, or tax advice. Certain statements contained herein may constitute projections, forecasts and other forward looking statements, which do not reflect actual results. Information provided by third-party sources are believed to be reliable and have not been independently verified for accuracy or completeness and cannot be guaranteed. Any opinions, projections, forecasts, and forward-looking statements presented herein are valid as of the date of this communication and are subject to change without notice. The information herein represents the opinion of the author(s), but not necessarily those of VanEck.
The views contained herein are not to be taken as advice or a recommendation to buy or sell any investment in any jurisdiction, nor is it a commitment from Van Eck Associates Corporation or its subsidiaries to participate in any transactions in any companies mentioned herein. This content is published in the United States. Investors are subject to securities and tax regulations within their applicable jurisdictions that are not addressed herein.
All investing is subject to risk, including the possible loss of the money you invest. As with any investment strategy, there is no guarantee that investment objectives will be met and investors may lose money. Diversification does not ensure a profit or protect against a loss in a declining market. Past performance is no guarantee of future results.

Natalia Gurushina
Chief Economist, Emerging Markets Fixed Income