How to invest in gold
There are several ways to make an investment in gold and thus obtain exposure to its price. We will explore:
Gold bullion or gold coins
Gold jewelry
Gold certificates
Shares in gold miners (or a more diversified option like a gold miners ETF)
Let's take a look at each of these options.
Gold bullion
This is an investment in actual physical gold. Bullion is the word that describes gold or silver that is 99.5% pure or more. You can purchase bars of gold bullion or coins (these are not as pure) and keep them in a safe at your home or perhaps in a bank or depository. If you hold the gold at a bank or depository, you will have to pay storage costs for your bullion. It's also crucial that you do some research and purchase bullion from a reputable dealer such as APMEX, JM Bullion and others. There are many reputable dealers around the world, and you can even purchase coins and bullion online.
Gold jewelry
Gold jewelry tends to hold its value, but this can be a risky way to invest in gold. For one thing, you have to ensure that the gold jewelry you purchase is of the highest quality. You also need to ensure that you don't overpay for the jewelry. Keep in mind, you aren't just paying for the gold but also the craftsmanship that went into creating the jewelry. Additionally, you will need to store the jewelry in a secure place. In general, this is only a good investment if you get a good price or you simply love to wear gold jewelry.
Gold certificates
A gold certificate is simply a paper document that indicates you have a claim on a specific amount of gold. Basically, if you want to purchase physical gold bullion but don't want to store it, you can opt to buy gold certificates. Obviously, you will need to purchase these certificates from a highly reputable dealer.
Gold mining stocks
Another option to make an investment in gold would be to purchase shares of a gold mining company. This might be a company that actually mines for gold and other precious metals or perhaps a company involved in exploring for gold and other natural resources such as copper and platinum. It is essential that you research each company carefully, as buying shares in a single company carries more risk than a mutual fund or ETF, which is diversified with multiple holdings.
Overview of the advantages and disadvantages of various gold investment products
swipe
Advantages
Disadvantages
Bullion and gold coins

Tangible asset
Crisis currency
Easy to understand

High buying rates
No interest/dividends
Expensive storage
Possible theft
Minimum amount

Gold certificates

No physical storage requirements

No direct ownership
No interest/dividends
High fees

Gold ETCs

No physical storage requirements
Extremely liquid

Gold mining shares

No physical storage requirements
High upside potential
Dividends
Extremely liquid

High price fluctuations
Equity risk
Equity analysis required

Gold mining ETFs

No physical storage requirements
High upside potential
Dividends
Extremely liquid

High price fluctuations
Equity risk
Invest in gold according to your own time frame
The different gold investment options also vary in terms of time frame, liquidity and their suitability for certain types of investor.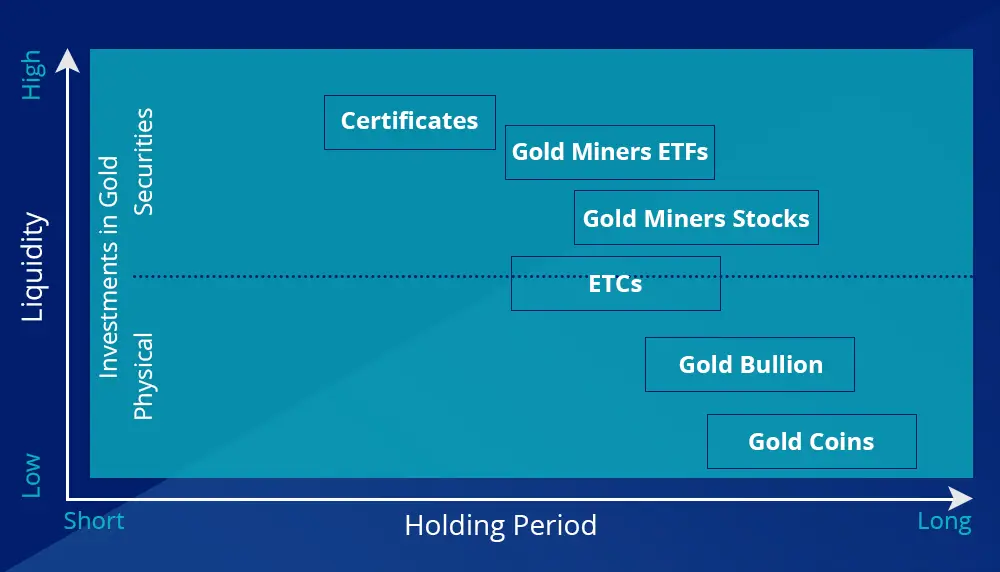 Source: VanEck.

Investing in gold with gold mining shares
Mining shares from companies like Newmont Corp or Barrick Gold Corp are an indirect way of profiting from developments in the gold price. Their prices usually correlate with the price of gold and offer the following advantages:
You avoid the storage costs of bullion. These costs can be considerable with respect to the necessary security measures.
Gold mining companies can pay dividends, which can influence your yield on investment. In the case of bullion, the yield is derived solely from the price gain (or price loss). Needless to say, a price gain cannot be guaranteed.
Gold mine shares may increase in value without the gold price increasing. This may occur, for instance, if the company carries out operational improvements that improve profitability. Note: the value can also decrease due to unsound management.
Historically, the share prices of gold miners have increased disproportionately when gold prices increase. The reason is that their profitability increases disproportionately if revenue increases while costs remain the same. Conversely, the opposite is also true: When gold prices drop, the share prices may drop disproportionately. This is a meaningful element to keep in mind when deciding to make an investment in gold through gold mining shares.


Risk factors
Investing in gold miners is subject to a number of specific risks. The most important one is sensitivity to the price of gold. Additionally, there is the risk of investing in the natural resources sector: companies can be negatively affected by numerous factors, such as political and economic circumstances, exchange rate fluctuations, import restrictions, and exhaustion of natural resources.


Invest in gold miners via ETFs
If you want to broadly invest in gold mining shares, you can turn to gold mining ETFs. This instrument eliminates the need to search for promising individual shares and allows investors to buy across the entire sector on a broadly diversified basis.
VanEck offers two gold mining ETFs that invest in shares of gold mining companies: