16 April 2020

VanEck Blogs | Emerging Market Bonds

Emerging Markets Bonds: EMFX Key to 2020 Returns
At current valuations, we expect that emerging markets local currency bond returns will primarily be driven by currencies for the remainder of the year. If global growth shows signs of a recovery and the stimulative efforts of emerging markets central banks are successful, emerging markets currencies (EMFX) may rally from here as risk appetite and the search for yield re-emerges.
Emerging markets central banks have responded to the recent downturn by prioritizing growth and financial stability over inflation. Many have aggressively cut rates, and in some countries, quantitative easing (QE)-style open market operations have been implemented. Most of the countries in the J.P. Morgan GBI-EM Global Core Index went into the current downturn with the benefit of high real interest rates (nominal rates adjusted for inflation), and have been able to support growth through conventional monetary policy in contrast to developed markets, which already had near-zero or negative real rates. As opposed to previous episodes of risk aversion and capital outflows, we believe external vulnerabilities are reduced for many countries, foreign currency reserves are higher and the downside risks to growth appear to outweigh inflation pressures for now.
One result of lower rates amidst the current risk-off environment has been a steep decline in the values of many emerging markets currencies, particularly those of oil exporters such as Mexico and Russia. In terms of real effective exchange rates, which account for changes in price levels and the balance among a country's trading partners, the average valuation of emerging markets currencies has not been this low since 1999 and is well below historical averages.
Real Effective Exchange Rates Attractive by Historical Standards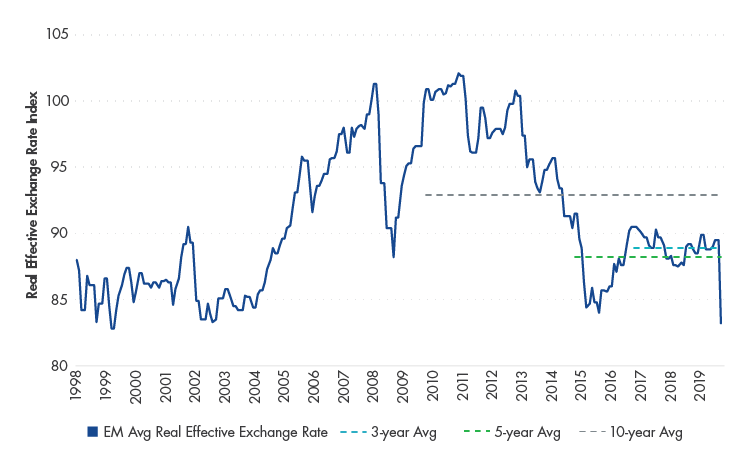 Source: J.P. Morgan and VanEck. Real Effective Exchange Rate Index represents the weighted average of the real effective exchange rates of the countries in the J.P. Morgan GBI-EM Global Core Index using 3/31/2020 country weights.
The approach being taken by emerging markets central banks is untested, and there are several risks to this scenario, in our view. Further growth downgrades would negatively impact currencies, as well as worsening fiscal and current account balances, inflation pressures, and accelerating capital outflows. Although oil importers make up the majority of the index, a prolonged period of severely depressed oil prices may also keep pressure on commodity sensitive currencies.
IMPORTANT DEFINITIONS & DISCLOSURES  
This material may only be used outside of the United States.
This is not an offer to buy or sell, or a recommendation of any offer to buy or sell any of the securities mentioned herein. Fund holdings will vary. For a complete list of holdings in VanEck Mutual Funds and VanEck Vectors ETFs, please visit our website at www.vaneck.com.
The information presented does not involve the rendering of personalized investment, financial, legal, or tax advice. Certain statements contained herein may constitute projections, forecasts and other forward looking statements, which do not reflect actual results. Information provided by third-party sources are believed to be reliable and have not been independently verified for accuracy or completeness and cannot be guaranteed. Any opinions, projections, forecasts, and forward-looking statements presented herein are valid as of the date of this communication and are subject to change without notice. The information herein represents the opinion of the author(s), but not necessarily those of VanEck.
The views contained herein are not to be taken as advice or a recommendation to buy or sell any investment in any jurisdiction, nor is it a commitment from Van Eck Associates Corporation or its subsidiaries to participate in any transactions in any companies mentioned herein. This content is published in the United States. Investors are subject to securities and tax regulations within their applicable jurisdictions that are not addressed herein.
All investing is subject to risk, including the possible loss of the money you invest. As with any investment strategy, there is no guarantee that investment objectives will be met and investors may lose money. Diversification does not ensure a profit or protect against a loss in a declining market. Past performance is no guarantee of future results.

Fran Rodilosso
Head of Fixed Income ETF Portfolio Management, CFA
Sign-up to Receive Our Latest Insights
By Subscribing I Acknowledge That I Have Read The Online
Privacy Policy
Manage Your Subscriptions