EM's Breakaway Doves
21 April 2023
Read Time 2 MIN
We've got another rate cut in EM today – justified or reckless, given potential upside inflation risks stemming from stronger global growth and the uncertainty about food disinflation?
Global Rate Cycles
While advanced economies are still debating the extent of additional monetary tightening – just check today's services PMIs in Europe/U.S. and think about potential inflation pressures this can generate (see chart below) – some emerging markets (EM) already started to cut policy rates. The central bank of Uruguay surprised with a 25bps rate cut yesterday, and Costa Rica delivered its second rate cut in a row (100bps after 50bps in March). The market still gets apprehensive about premature policy easing in EM – and there are good reasons for that (such as 20% annual inflation in Hungary, for example). High real rates also helped to shield EMs during this year's market turbulence in Europe/U.S. (mini-banking crisis) – something to keep in mind as we get closer to the debt ceiling debate in the U.S., which can lead to a spike in FX volatility. Expected U.S. investment curbs against China can affect the market sentiment as well.
EM Easing Prospects
EM's "dovish rebellion" is still small – many central banks are happy to pause, but not yet ready to pivot. This was a key message from the Indian central bank's minutes released yesterday, and they came on the heels of an even more hawkish signal from the Chilean central bank's transcript. The Brazilian central bank expressed concerns about sticky inflation expectations, the Malaysian central bank left the door open for more tightening and the Czech national bank warned the market against betting on rate cuts. Rate hikes in EMs are rarity these days, but upside inflation surprises have forced the central bank's hand on more than one occasion – including South Africa (+50bps in March) and Argentina (+300bps yesterday). Argentina, of course, is a very special case – the economy is a train wreck – but it might get interesting because the difficult economic situation improves centrists' electoral chances (hence, the outlook for reforms) in October.
Inflation Risks
Another reason to keep an eye on Argentina is mega drought and its potential impact on food prices, which account for a significant portion of a typical consumer price basket in EM. Stronger than expected domestic activity can also create headache for EM central banks, which look to exit their tightening cycles. Potential spillovers from a faster than expected China recovery fall into this category, and China's comments about the U-shape inflation/credit time lags did not go unnoticed. So, while EM doves' policy choices look gutsy, it could be a very bumpy flight.
Chart at a Glance: Global Growth Drivers – Services Recovery Continues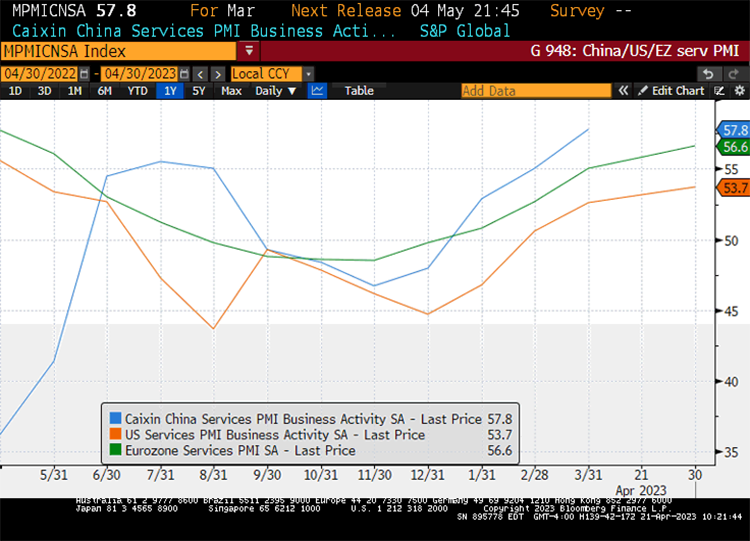 Source: Bloomberg LP.
IMPORTANT DEFINITIONS & DISCLOSURES  
This material may only be used outside of the United States.
This is not an offer to buy or sell, or a recommendation of any offer to buy or sell any of the securities mentioned herein. Fund holdings will vary. For a complete list of holdings in VanEck Mutual Funds and VanEck ETFs, please visit our website at www.vaneck.com.
The information presented does not involve the rendering of personalized investment, financial, legal, or tax advice. Certain statements contained herein may constitute projections, forecasts and other forward looking statements, which do not reflect actual results. Information provided by third-party sources are believed to be reliable and have not been independently verified for accuracy or completeness and cannot be guaranteed. Any opinions, projections, forecasts, and forward-looking statements presented herein are valid as of the date of this communication and are subject to change without notice. The information herein represents the opinion of the author(s), but not necessarily those of VanEck.
The views contained herein are not to be taken as advice or a recommendation to buy or sell any investment in any jurisdiction, nor is it a commitment from Van Eck Associates Corporation or its subsidiaries to participate in any transactions in any companies mentioned herein. This content is published in the United States. Investors are subject to securities and tax regulations within their applicable jurisdictions that are not addressed herein.
All investing is subject to risk, including the possible loss of the money you invest. As with any investment strategy, there is no guarantee that investment objectives will be met and investors may lose money. Diversification does not ensure a profit or protect against a loss in a declining market. Past performance is no guarantee of future results.