Will U.S. Growth Shocks Batter EM?
27 April 2023
Read Time 2 MIN
U.S. growth headwinds might be strong, but EMs' trade exposure to the U.S. varies a lot, and many EMs can benefit from China's stronger rebound.
U.S. Slowdown
The flash estimate for the U.S. Q1 GDP growth was much weaker than expected, slowing to 1.1% quarter-on-quarter annualized vs. 1.9% expected. While the print had no discernible impact on market expectations about next month's rate hike by the U.S. Federal Reserve (88% implied probability or so), it did raise questions about potential implications for emerging markets (EM), especially if U.S. growth weakness persists due to tightening credit conditions.
Mexico Nearshoring
There are various ways to gauge the impact of exogenous shocks on growth – one of them is to look at transmission via trade channels. The chart below shows the share of exports to the U.S. from major EMs as a percentage of their respective GDP. Mexico is a standout on this metric, and it remains to be seen whether the nearshoring story – which is a great longer-term investment theme – will help to shield the economy (and the Mexican peso) in the coming months.
EM Growth and China Rebound
Central European countries and Brazil look significantly less exposed via trade channels – the former are joined at the hip with Europe (which is why we keep an eye on tomorrow's Q1 flash GDP print there) and the latter is a more closed economy than Mexico. Several Asian economies also have significant trade exposure to the U.S., but their stronger correlation with China's rebound should help to mitigate the negative impact of potential growth headwinds from the U.S. Stay tuned!
Chart at a Glance: EM Exports to the U.S. – Top 10, Bottom 10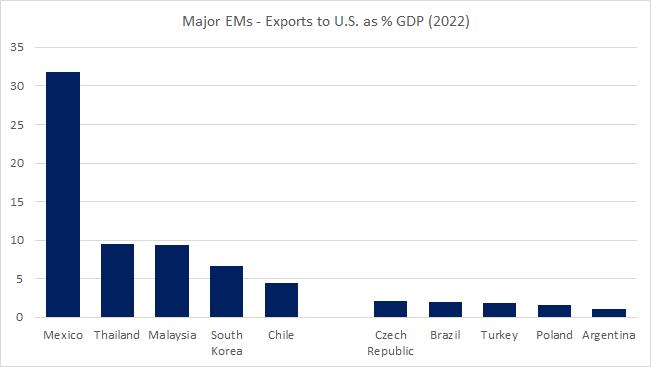 Source: VanEck Research; Bloomberg LP.
IMPORTANT DEFINITIONS & DISCLOSURES  
This material may only be used outside of the United States.
This is not an offer to buy or sell, or a recommendation of any offer to buy or sell any of the securities mentioned herein. Fund holdings will vary. For a complete list of holdings in VanEck Mutual Funds and VanEck ETFs, please visit our website at www.vaneck.com.
The information presented does not involve the rendering of personalized investment, financial, legal, or tax advice. Certain statements contained herein may constitute projections, forecasts and other forward looking statements, which do not reflect actual results. Information provided by third-party sources are believed to be reliable and have not been independently verified for accuracy or completeness and cannot be guaranteed. Any opinions, projections, forecasts, and forward-looking statements presented herein are valid as of the date of this communication and are subject to change without notice. The information herein represents the opinion of the author(s), but not necessarily those of VanEck.
The views contained herein are not to be taken as advice or a recommendation to buy or sell any investment in any jurisdiction, nor is it a commitment from Van Eck Associates Corporation or its subsidiaries to participate in any transactions in any companies mentioned herein. This content is published in the United States. Investors are subject to securities and tax regulations within their applicable jurisdictions that are not addressed herein.
All investing is subject to risk, including the possible loss of the money you invest. As with any investment strategy, there is no guarantee that investment objectives will be met and investors may lose money. Diversification does not ensure a profit or protect against a loss in a declining market. Past performance is no guarantee of future results.