Exclusive access to an inclusive community for investors to learn, network and embrace the future of finance.
NFTs have taken the world by storm. Many of the most popular NFT projects combine art with real-world utility, linking ownership to distinct privileges, access and rights.
Owners of a VanEck Community NFT may unlock opportunities, such as advanced access to our research, invitations to private events, and more!
Live Events
As the first Global Asset Manager to launch an NFT collection, we have navigated many challenges including those tied to communication. With this in mind, we are thrilled to announce our initial Virtual world and innovative communication tool powered by Portals NFT project on the Solana blockchain. Stay tuned for additional news and upcoming virtual events!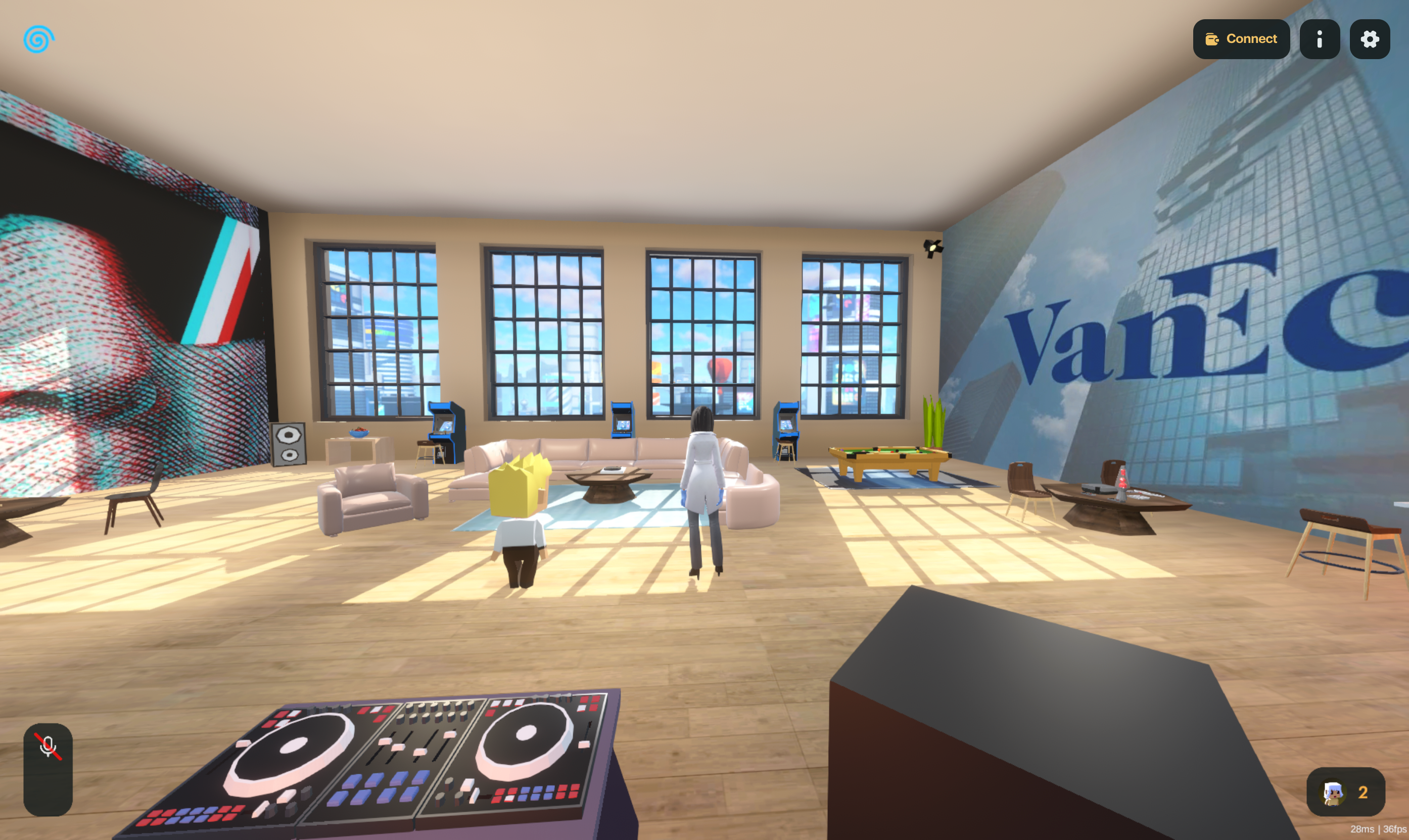 NFTs Brighten Wall Street's Evening as VanEck Works to Build Community With Afropolitan
The event brought together Afropolitan's network of community members and investors with VanEck staff and NFT holders.
VanEck Community NFT Video Series
Watch as Hammy experiences first-hand the negative effects of a monetary printing press. Fiat money has lost all value, and the people have taken to the streets! Luckily, Hammy discovers there may be a solution to the soft money problem.
Hammy continues his journey forward and through "The Crossing" where he meets with his new team. These "Guardians" have a special journey and mission in front them. Only time will tell on whether succeed or fail…
Hammy leads the "Guardians" as they press forward, laying the groundwork for what's to come. They seek to change the future and provide the key for unlocking potential innovation and utility. Their completion of this mission is only the beginning!
Important Definitions & Disclosures
VanEck assumes no liability for the content of any linked third-party site, and/or content hosted on external sites.
This is not an offer to buy or sell, or a recommendation to buy or sell any of the securities/financial instruments mentioned herein. The information herein represents the opinion of the author(s), but not necessarily those of VanEck, and these opinions may change at any time. Non-VanEck proprietary information contained herein has been obtained from sources believed to be reliable, but not guaranteed. Not intended to be a forecast of future events, a guarantee of future results or investment advice. Historical performance is not indicative of future results. Current data may differ from data quoted. Any graphs shown herein are for illustrative purposes only.
In consideration of the receipt of non-fungible tokens ("NFTs") from VanEck, you represent, acknowledge, accept and agree that you received the NFTs as a gift from VanEck. You did not pay any consideration, monetary or otherwise, for the NFTs.
You may receive an NFT as a gift from VanEck. You are not paying any consideration, monetary or otherwise, for the NFT.
The NFTs are not an investment. Rather, the NFTs are digital memorabilia intended solely for entertainment purposes. As entertainment memorabilia given to you as a gift, the NFTs have no value and are not intended by VanEck to ever have any value. Neither VanEck nor anyone else will take or not take any current or future action that is designed in any way to maintain the value of the NFTs, or to cause their value to grow or increase. You must not attempt to obtain an NFT from VanEck if you view it as an investment.
As a condition of receiving the NFTs, you shall hold the NFTs for your own personal benefit, and you shall not act, and are not acting, on behalf of any other person or entity; except that, if you are an affiliate of an entity or person whose relationship or affiliation you have made VanEck aware of prior to your receiving the NFT, and VanEck consents to your receiving an NFT, you may receive an NFT. You shall not sell, assign, alienate, lease, lend, fractionalize, re-gift, convey or transfer in any way the NFTs (or any interest therein) to any other person or entity, even an affiliate. Any sale, transfer, assignment, or other action covered in the preceding sentence shall be void. You must not attempt to obtain an NFT from VanEck if you plan to sell or transfer it.
The information herein represents the opinion of the author(s), an employee of the advisor, but not necessarily those of VanEck. The securities/ financial instruments discussed in this material may not be appropriate for all investors. The appropriateness of a particular investment or strategy will depend on an investor's individual circumstances and objectives.
This material has been prepared for informational purposes only and is not an offer to buy or sell or a solicitation of any offer to buy or sell any security/financial instrument, or to participate in any trading strategy.
Certain statements contained herein may constitute projections, forecasts and other forward looking statements, which do not reflect actual results, are valid as of the date of this communication and subject to change without notice. Information provided by third party sources are believed to be reliable and have not been independently verified for accuracy or completeness and cannot be guaranteed. VanEck does not guarantee the accuracy of third party data.
Cryptocurrency is a digital representation of value that functions as a medium of exchange, a unit of account, or a store of value, but it does not have legal tender status. Cryptocurrencies are sometimes exchanged for U.S. dollars or other currencies around the world, but they are not generally backed or supported by any government or central bank. Their value is completely derived by market forces of supply and demand, and they are more volatile than traditional currencies. The value of cryptocurrency may be derived from the continued willingness of market participants to exchange fiat currency for cryptocurrency, which may result in the potential for permanent and total loss of value of a particular cryptocurrency should the market for that cryptocurrency disappear. Cryptocurrencies are not covered by either FDIC or SIPC insurance.
Investing in cryptocurrencies comes with a number of risks, including volatile market price swings or flash crashes, market manipulation, and cybersecurity risks. In addition, cryptocurrency markets and exchanges are not regulated with the same controls or customer protections available in equity, option, futures, or foreign exchange investing. There is no assurance that a person who accepts a cryptocurrency as payment today will continue to do so in the future.
The features, functions, characteristics, operation, use and other properties of the specific cryptocurrency may be complex, technical, or difficult to understand or evaluate. The cryptocurrency may be vulnerable to attacks on the security, integrity or operation, including attacks using computing power sufficient to overwhelm the normal operation of the cryptocurrency's blockchain or other underlying technology. Some cryptocurrency transactions will be deemed to be made when recorded on a public ledger, which is not necessarily the date or time that a transaction may have been initiated.
Investors must have the financial ability, sophistication and willingness to bear the risks of an investment and a potential total loss of their entire investment in cryptocurrency.
An investment in cryptocurrency is not suitable or desirable for all investors.
Cryptocurrency has limited operating history or performance.
Fees and expenses associated with a cryptocurrency investment may be substantial.
There may be risks posed by the lack of regulation for cryptocurrencies and any future regulatory developments could affect the viability and expansion of the use of cryptocurrencies. Investors should conduct extensive research before investing in cryptocurrencies. Past performance is not a guarantee of future results.
Information provided by Van Eck is not intended to be, nor should it be construed as financial, tax or legal advice. It is not a recommendation to buy or sell an interest in cryptocurrencies.
All investing is subject to risk, including the possible loss of the money you invest. As with any investment strategy, there is no guarantee that investment objectives will be met and investors may lose money. Diversification does not ensure a profit or protect against a loss in a declining market. Past performance is no guarantee of future results.