30 July 2021

VanEck Blogs | Emerging Markets Debt Daily

Playing the Waiting Game in China and Peru
As we wait for the next batch of China's activity gauges, the Politburo expressed concern about the growth outlook and signals more fiscal support. Peru's politics spooked the market—and some questions are still unresolved.
We are all waiting for the next batch of China's activity gauges this weekend—the release that can send an important signal regarding the near-term growth trajectory. The consensus believes that the situation on the ground is stabilizing, and that we are not going to see further declines in the services Purchasing Managers' Index. Meanwhile, the Politburo expressed concerns about a more difficult growth outlook in its press release and signaled a more pro-growth fiscal stance.
Another item on our watch list is Peru's post-election policy agenda. This is part of a bigger story about LATAM's alleged slide to populism. The developments of the past two days—especially the push for rewriting the constitution and the appointment of a left-leaning politician with no public office experience as Premier—indeed point to a populist bias, and the market got spooked. A "saving grace" may come in the form of a market-friendly Minister of Economy (the position was still vacant at the time of this note) and the reappointment of the current (very credible) governor of the central bank, but for now it is a waiting game.
This week was on the nerve-racking side, so I would like to finish it on a lighter note. Yesterday we talked about other types of EM contagion (policy contagion). Well, there is also another kind of higher yielding asset—like wild mountain strawberries. This year's yield is off the charts (see a very representative average daily "chart" below). And please do not ask me about the place. It is classified. Porcini mushrooms are coming soon. I hope to see these high yields repeat. Have a great weekend!
Chart at a Glance: Highest Yielding (and Yummiest) Asset of the Week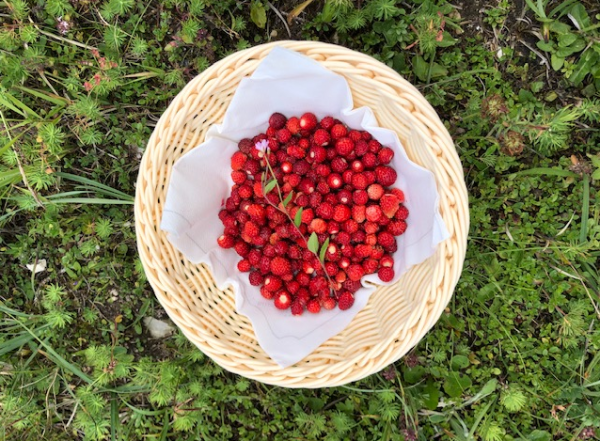 Source: Natalia Gurushina
IMPORTANT DEFINITIONS & DISCLOSURES  
This material may only be used outside of the United States.
This is not an offer to buy or sell, or a recommendation of any offer to buy or sell any of the securities mentioned herein. Fund holdings will vary. For a complete list of holdings in VanEck Mutual Funds and VanEck Vectors ETFs, please visit our website at www.vaneck.com.
The information presented does not involve the rendering of personalized investment, financial, legal, or tax advice. Certain statements contained herein may constitute projections, forecasts and other forward looking statements, which do not reflect actual results. Information provided by third-party sources are believed to be reliable and have not been independently verified for accuracy or completeness and cannot be guaranteed. Any opinions, projections, forecasts, and forward-looking statements presented herein are valid as of the date of this communication and are subject to change without notice. The information herein represents the opinion of the author(s), but not necessarily those of VanEck.
The views contained herein are not to be taken as advice or a recommendation to buy or sell any investment in any jurisdiction, nor is it a commitment from Van Eck Associates Corporation or its subsidiaries to participate in any transactions in any companies mentioned herein. This content is published in the United States. Investors are subject to securities and tax regulations within their applicable jurisdictions that are not addressed herein.
All investing is subject to risk, including the possible loss of the money you invest. As with any investment strategy, there is no guarantee that investment objectives will be met and investors may lose money. Diversification does not ensure a profit or protect against a loss in a declining market. Past performance is no guarantee of future results.

Natalia Gurushina
Chief Economist, Emerging Markets Fixed Income Strategy