Raising a Glass to Blockchain Applications
August 23, 2022
Read Time 5 MIN
How does crypto impact the real world? We are excited to share a community-first Web3 project that caters to wine enthusiasts while disrupting everyday concepts and business: Club dVIN.
Please note that VanEck may have a position(s) in the digital asset(s) described below.
How does crypto impact the real world? Many investors and would-be participants are waiting for a Web3 project that holds benefits and value that extend beyond holding an expensive NFT in a digital wallet. At VanEck, we believe that NFTs can provide real-world utility. We are excited to share an overview of an NFT project that caters to a more mature crowd – wine enthusiasts!
Disruption Tastes "dVIN"
Let's discuss a community-first Web3 project that redefines the way we think about clubs and memberships, solves problems around protecting authenticity, and explores a novel way for community members to connect over shared interests. We'll review how NFTs are fueling this next-level, disruptive business concept.
What is Club dVIN?
Club dVIN is a global community centered around a love of premier wines and built on top of blockchain technology.
This community was curated for people with an authentic and diverse passion for wine and features a real club experience with vintages from some of the most exclusive vineyards. When starting a new NFT project and minting the initial memberships, team members spend a lot of time figuring out how to avoid bots. With this in mind, the Club dVIN team interviewed potential members over video conference and at wine tastings to ensure their community was built around real people with a real passion for the good stuff.
Authenticity Solved by Blockchain Technology
There are many estimates about the amount of counterfeit wine sold globally with experts quoting ranges between 5% and 20%.1 Sour Grapes, a 2016 Netflix film, followed a wine fraudster who took bottles from famous vintages, refilled them with cheaper wine and sold them with forged labels. Club dVIN Co-Founder David Garrett has emphasized the importance of the "chain of custody" of wine and is actively tackling this counterfeiting issue with a proprietary blockchain mechanism called "Digital Corks."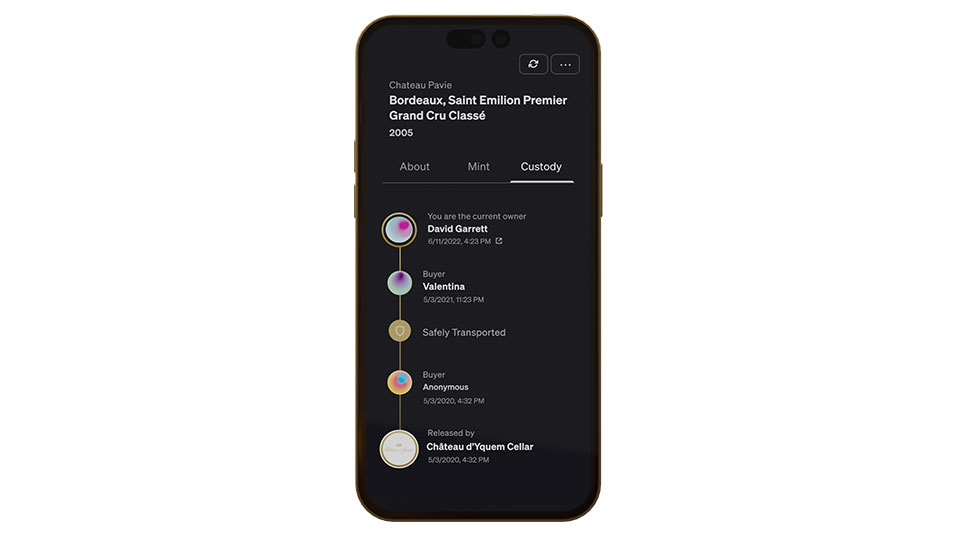 Chain of Custody – Source: Club dVIN.
What is a "Digital Cork"?
NFTs, or non-fungible tokens, are backed by a unique Token ID. This ID is what makes the token non-fungible, makes it unique, and is used to prove record of the asset on the blockchain. In terms of use cases for wine, each bottle from Club dVIN has an associated digital twin-like token, a record of the bottle in the form of an NFT. Think of this as an additional digital asset that is closely tied to your real-life wine bottle.
The NFT acts as a certificate of authenticity. Just like any true art work or collectible, provenance is everything and you can quickly provide this with your crypto wallet. The token resides on the blockchain, thus immutable (can't be changed), in the form of a transparent record.
Uncork a Bottle on the Blockchain
Few experiences are as enjoyable as opening a quality, rare wine, especially when you share these experiences with others. Let's assume for a moment that you're enjoying a meal with friends and family and you present a rare bottle of wine. The sommelier uncorks it, and while she does, you pop the digital cork within your wallet. The bottle is now recorded as opened, or uncorked, on the blockchain, preserving the integrity of the overall wine experience.
Popping the Cork to Onboard New Users
At VanEck, we started to do more with POAPs (Proof of Attendance Protocol). They act as digital badges that users collect after attending live events or experiences. With a POAP in your wallet, you can prove through the blockchain that you were there! They are a great way to reward and measure community engagement.
Club dVIN has taken this idea a bit farther, creating a "Tasting Token" that serves the same purpose, but uses the token as a vehicle for onboarding new wine enthusiasts and potential members.
What is a "Tasting Token" and how does it work?
Let's go back to our example of popping the digital cork within your wallet. This action provides you with an opportunity to mint up to 12 Tasting Tokens.
Your guests may now try the wine and scan your wallet with their own to collect a Tasting Token. This digital badge-like asset becomes proof of experience that together you opened a bottle of a specific vintage on a particular date and time. It becomes a record on the blockchain that can be used for engagement or further incentives by that vineyard. You don't have to be a NFT expert to see why this would be fun!
Tasting Token example – Source: Club dVIN.
More on Tasting Tokens
Once minted, each Tasting Token converts to a piece of collectible, digital art. The rarer the wine, the rarer the artwork! In a brief tutorial on how this concept works, David asked me to scan a QR code generated from his wallet with my own. Shortly after, I received a token in my wallet that featured high-quality art, a record of the time, date and vintage of the wine he just opened.
Lastly, the Digital Cork, whether opened or unopened, allows wine makers to participate in secondary market royalties. NFTs can be revenue powerhouses, passing through royalties for all types of art, not just those tied to pictures of apes or tokens with embedded music files.
The Last Drop
Many believe that the next million users to get onboarded into Web3 will come from projects like Club dVIN, as we bring friends and family into the metaverse through shared interests and passions. If you would like to learn more about Club dVIN because you enjoy community over floor prices and flipping NFTs, then I encourage you to visit their website and see if a membership is right for you. Ultimately, our hope is to show how blockchain technologies can power Web3 projects and change the way people think about everyday concepts and business.
To receive more Digital Assets insights, sign up in our subscription center.
IMPORTANT DISCLOSURES
1 Source: The Wine Wankers, '20% of all wine in the world is fake' – this expert's guide will save you a fortune, accessed August 22, 2022.
Please note that VanEck may offer investments products that invest in the asset class(es) or industries included herein.
This is not an offer to buy or sell, or a recommendation to buy or sell any of the cryptocurrencies mentioned herein. The information presented does not involve the rendering of personalized investment, financial, legal, or tax advice. Certain statements contained herein may constitute projections, forecasts and other forward looking statements, which do not reflect actual results, are valid as of the date of this communication and subject to change without notice. Information provided by third party sources are believed to be reliable and have not been independently verified for accuracy or completeness and cannot be guaranteed. VanEck does not guarantee the accuracy of third party data. The information herein represents the opinion of the author(s), but not necessarily those of VanEck or its employees.
In consideration of the receipt of non-fungible tokens ("NFTs") from VanEck, you represent, acknowledge, accept and agree that you received the NFTs as a gift from VanEck. You did not pay any consideration, monetary or otherwise, for the NFTs.
You may receive an NFT as a gift from VanEck. You are not paying any consideration, monetary or otherwise, for the NFT.
The NFTs are not an investment. Rather, the NFTs are digital memorabilia intended solely for entertainment purposes. As entertainment memorabilia given to you as a gift, the NFTs have no value and are not intended by VanEck to ever have any value. Neither VanEck nor anyone else will take or not take any current or future action that is designed in any way to maintain the value of the NFTs, or to cause their value to grow or increase. You must not attempt to obtain an NFT from VanEck if you view it as an investment.
As a condition of receiving the NFTs, you shall hold the NFTs for your own personal benefit, and you shall not act, and are not acting, on behalf of any other person or entity; except that, if you are an affiliate of an entity or person whose relationship or affiliation you have made VanEck aware of prior to your receiving the NFT, and VanEck consents to your receiving an NFT, you may receive an NFT. You shall not sell, assign, alienate, lease, lend, fractionalize, re-gift, convey or transfer in any way the NFTs (or any interest therein) to any other person or entity, even an affiliate. Any sale, transfer, assignment, or other action covered in the preceding sentence shall be void. You must not attempt to obtain an NFT from VanEck if you plan to sell or transfer it.
Cryptocurrency is a digital representation of value that functions as a medium of exchange, a unit of account, or a store of value, but it does not have legal tender status. Cryptocurrencies are sometimes exchanged for U.S. dollars or other currencies around the world, but they are not generally backed or supported by any government or central bank. Their value is completely derived by market forces of supply and demand, and they are more volatile than traditional currencies. The value of cryptocurrency may be derived from the continued willingness of market participants to exchange fiat currency for cryptocurrency, which may result in the potential for permanent and total loss of value of a particular cryptocurrency should the market for that cryptocurrency disappear. Cryptocurrencies are not covered by either FDIC or SIPC insurance. Legislative and regulatory changes or actions at the state, federal, or international level may adversely affect the use, transfer, exchange, and value of cryptocurrency.
Investing in cryptocurrencies comes with a number of risks, including volatile market price swings or flash crashes, market manipulation, and cybersecurity risks. In addition, cryptocurrency markets and exchanges are not regulated with the same controls or customer protections available in equity, option, futures, or foreign exchange investing. There is no assurance that a person who accepts a cryptocurrency as payment today will continue to do so in the future.
Investors should conduct extensive research into the legitimacy of each individual cryptocurrency, including its platform, before investing. The features, functions, characteristics, operation, use and other properties of the specific cryptocurrency may be complex, technical, or difficult to understand or evaluate. The cryptocurrency may be vulnerable to attacks on the security, integrity or operation, including attacks using computing power sufficient to overwhelm the normal operation of the cryptocurrency's blockchain or other underlying technology. Some cryptocurrency transactions will be deemed to be made when recorded on a public ledger, which is not necessarily the date or time that a transaction may have been initiated.
There may be risks posed by the lack of regulation for cryptocurrencies and any future regulatory developments could affect the viability and expansion of the use of cryptocurrencies. Investors should conduct extensive research before investing in cryptocurrencies.
Information provided by Van Eck is not intended to be, nor should it be construed as financial, tax or legal advice. It is not a recommendation to buy or sell an interest in cryptocurrencies.
All investing is subject to risk, including the possible loss of the money you invest. As with any investment strategy, there is no guarantee that investment objectives will be met and investors may lose money. Diversification does not ensure a profit or protect against a loss in a declining market. Past performance is no guarantee of future results.
© Van Eck Securities Corporation, Distributor, a wholly owned subsidiary of Van Eck Associates Corporation.
666 Third Avenue | New York, NY 10017