How to Navigate the Metaverse
April 13, 2022
Read Time 5 MIN
The metaverse has opened the door for a customizable, virtual experience where users can interact in real time, and even use for real world utility.
Please note that VanEck may have a position(s) in the digital asset(s) described below.
The Beginnings of the Metaverse
I first encountered an instance of the metaverse back in 2017. Decentraland, a virtual platform where you can buy and sell land, estates, avatars and more, was just getting started. They created a world called Genesis City with a finite number of just over 90,000 parcels of digital land. On each parcel, you could theoretically build anything you wanted: a meeting place, a concert venue, even a digital winery (I tried this and failed). It offered truly limitless opportunities. Its map was complete with roads, highways and mini-communities just ready to be built, until crypto winter took hold.
Lasting from late 2017 until 2018, the crypto winter was a prolonged period of bearishness where asset prices fell over several months. It stifled the bullish mindset of some crypto enthusiasts and caused projects like Decentraland to experience a relative slowdown in content creation and interest in the project as a whole.
This slowdown seemed to last until early 2021. Last year, Facebook changed its name to Meta and invested in a plethora of virtual reality (VR) related companies, and metaverse projects like Decentraland (DCL) and Sandbox took off! The floor price for a single parcel in DCL is more than 4 ETH at the time of writing this blog. A major component of the metaverse is non-fungible tokens (NFTs). As NFTs gained popularity, they brought the worlds of the metaverse along with them. If you aren't familiar with NFTs, then I recommend reading my NFT blog. In short, an NFT is an asset uniquely represented on the blockchain.
These projects and other mainstream public companies alike are competing for their share of the metaverse market. Even companies like Nike and Walmart, for example, have been making moves, filing for trademarks and buying up "land".
What is the Metaverse?
CoinMarketCap defines the metaverse:
A metaverse is a digital universe that contains all the aspects of the real world, such as real-time interactions and economies. It offers a unique experience to end-users. A metaverse is simply an alternate version of reality that exists digitally. Much like the physical reality, people interact in this metaverse to work, play, do business, and socialize with other people and elements.1
Put another way, it's turning the movie "Ready Player One" into a reality; wear a headset, communicate with friends, play games and take part in virtual experiences.
We have written about the metaverse's potential for advertising, gaming, conferences, payments and the internet, but to help make sense of the metaverse experience and the opportunities it offers, let's walk through a project. This project intends to become the premier metaverse project, focusing on content and community first. This is merely for educational purposes and is in no way a recommendation to purchase.
It starts with NFTs. Out of respect for the projects that have led the way, I think it is only fair that I mention BAYC or "Bored Ape Yacht Club," a collection of unique Bored Ape NFTs that are collectibles living on the blockchain. If you thought Decentraland real estate was expensive, the cheapest BAYC NFT is 80 ETH, or around $263,510 USD as of March 31, 2022.2
What Drives NFT Prices?
Not only do NFTs act as digital collectibles, but in this case, the BAYC NFT also doubles as a membership card to exclusive yacht club parties, which are often attended by well-known celebrities. This example is one of the earliest projects that has blended digital asset ownership with real life utility.
If this has caught your attention, then follow me down the rabbit hole into the metaverse.
Take a Walk Through the Metaverse
An example of a metaverse world is Fluf World, which made its debut at the end of the third quarter in 2021. It started with thousands of rabbit avatars, called "Flufs," living as NFTs on the blockchain. This NFT, a high-quality file with the Fluf, included a unique sound and background (unique NFTs themselves). The Fluf comes to life, bobs its heads and looks ready to party. I know it's a red rabbit wearing a sombrero, just stay with me for a moment.
A Fluf Living in Fluf World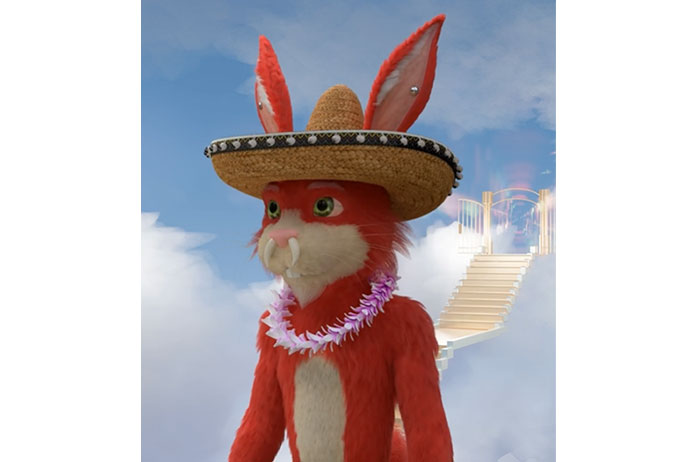 Source: Fluf World
(I was given permission by this Fluf's owner to use its image. That's right! They own the IP to this NFT.)
Now back in the day, when you first landed in DCL, it was mainly a blank space, a void in VR. You could walk around the world, but there was nothing there, or not much anyways. People want to go to a space in virtual reality and have experiences - play games, meet with friends, maybe even conduct real business.
Fluf World focusing on content first means the avatars, the scenes, the sounds, the lore, even the burrows are all fully 3D rendered, VR spaces that are ready for interaction.
The "Suite" Burrow Within Fluf World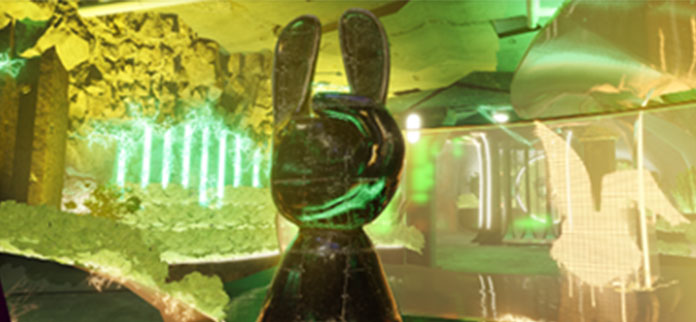 Source: Fluf World
There is no clear delineated roadmap, as Fluf World prefers to let community interests dictate the development of their new world. Therefore, all of this content has been developed over time and with careful consideration as to what appeals to the community. When you step foot into Fluf World, it is far from a blank space, but rather the beginning of a real metaverse. A developed world that users can interact with adds to appeal, leading to increased interest and adoption despite the more recent volatility in crypto prices.
How NFTs Interact with the Real World
Like BAYC, the Flufs, too, have real-world utility. In September of 2021, Miami hosted the Art Basel art festival. During that week, Fluf World launched Fluf Haus. It was a private, invite-only party that only certain owners of specific Flufs could attend.
The Fluf Haus party brought together real people in the real world, to celebrate the growth of this NFT project. In fact, during the week of the Superbowl, they also hosted Fluf Haus LA, a Superbowl themed Fluf party at the Peterson Auto Museum, with drinks, food and entertainment included.
Fluf Haus LA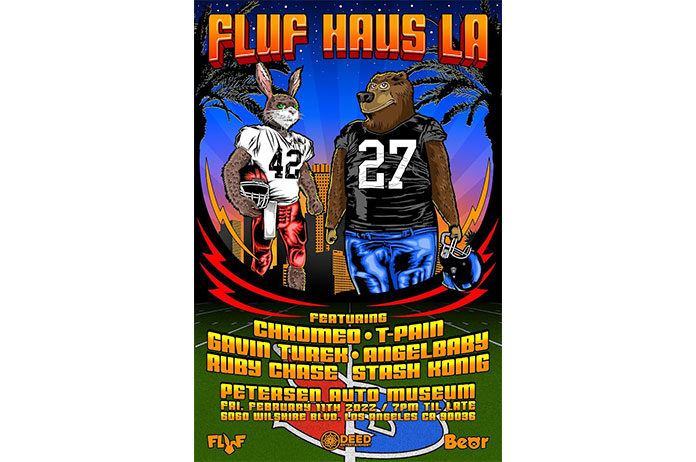 Source: Fluf Website
Whether it is Fluf World or Decentraland, you can now say that you have a better understanding of what is happening in the metaverse, and this is just the beginning.
The question is, are you willing to see how deep the rabbit hole goes?
For further learning, we have created a helpful Crypto Guide to aid in navigating our crypto and digital assets resources.
Access our crypto and digital assets education and research for more insights to the digital assets space.
Subscribe for updates and register for upcoming webinars and replays of our crypto discussions.
DISCLOSURES
© Van Eck Securities Corporation, a wholly-owned subsidiary of Van Eck Associates Corporation.
1 Source: CoinMarketCap.
2 OpenSea.
Sources:
CryptosRus
OpenSea
Wikipedia
Please note the author has invested in the Fluf World NFT and Decentraland Assets mentioned in this blog.
VanEck owns no rights to the NFTs. Images of NFTs were taken directly from respective websites.
Please note that VanEck may offer investments products that invest in the asset class(es) or industries included herein.
This is not an offer to buy or sell, or a recommendation to buy or sell any of the cryptocurrencies mentioned herein. The information herein represents the opinion of the author(s), but not necessarily those of VanEck, and these opinions may change at any time. Non-VanEck proprietary information contained herein has been obtained from sources believed to be reliable, but not guaranteed. Not intended to be a forecast of future events, a guarantee of future results or investment advice. Historical performance is not indicative of future results. Current data may differ from data quoted. Any graphs shown herein are for illustrative purposes only.
Cryptocurrency is a digital representation of value that functions as a medium of exchange, a unit of account, or a store of value, but it does not have legal tender status. Cryptocurrencies are sometimes exchanged for U.S. dollars or other currencies around the world, but they are not generally backed or supported by any government or central bank. Their value is completely derived by market forces of supply and demand, and they are more volatile than traditional currencies. The value of cryptocurrency may be derived from the continued willingness of market participants to exchange fiat currency for cryptocurrency, which may result in the potential for permanent and total loss of value of a particular cryptocurrency should the market for that cryptocurrency disappear. Cryptocurrencies are not covered by either FDIC or SIPC insurance. Legislative and regulatory changes or actions at the state, federal, or international level may adversely affect the use, transfer, exchange, and value of cryptocurrency.
Investing in cryptocurrencies comes with a number of risks, including volatile market price swings or flash crashes, market manipulation, and cybersecurity risks. In addition, cryptocurrency markets and exchanges are not regulated with the same controls or customer protections available in equity, option, futures, or foreign exchange investing. There is no assurance that a person who accepts a cryptocurrency as payment today will continue to do so in the future.
Investors should conduct extensive research into the legitimacy of each individual cryptocurrency, including its platform, before investing. The features, functions, characteristics, operation, use and other properties of the specific cryptocurrency may be complex, technical, or difficult to understand or evaluate. The cryptocurrency may be vulnerable to attacks on the security, integrity or operation, including attacks using computing power sufficient to overwhelm the normal operation of the cryptocurrency's blockchain or other underlying technology. Some cryptocurrency transactions will be deemed to be made when recorded on a public ledger, which is not necessarily the date or time that a transaction may have been initiated.
Investors must have the financial ability, sophistication and willingness to bear the risks of an investment and a potential total loss of their entire investment in cryptocurrency.
An investment in cryptocurrency is not suitable or desirable for all investors.
Cryptocurrency has limited operating history or performance.
Fees and expenses associated with a cryptocurrency investment may be substantial.
There may be risks posed by the lack of regulation for cryptocurrencies and any future regulatory developments could affect the viability and expansion of the use of cryptocurrencies. Investors should conduct extensive research before investing in cryptocurrencies.
Information provided by Van Eck is not intended to be, nor should it be construed as financial, tax or legal advice. It is not a recommendation to buy or sell an interest in cryptocurrencies.
All investing is subject to risk, including the possible loss of the money you invest. As with any investment strategy, there is no guarantee that investment objectives will be met and investors may lose money. Diversification does not ensure a profit or protect against a loss in a declining market. Past performance is no guarantee of future results.
Van Eck Associates Corporation